Cialis is one of several drugs used to treat erectile dysfunction (ED). It is highly efficacious in relaxing penile arteries & augmenting blood flow to the penis, thus leading to a firm and long-lasting erection. For men experiencing ED, Cialis offers an instant fix, regardless of whether the cause of the condition is physical or psychological. But does Cialis make you horny? Does using it make your wife horny?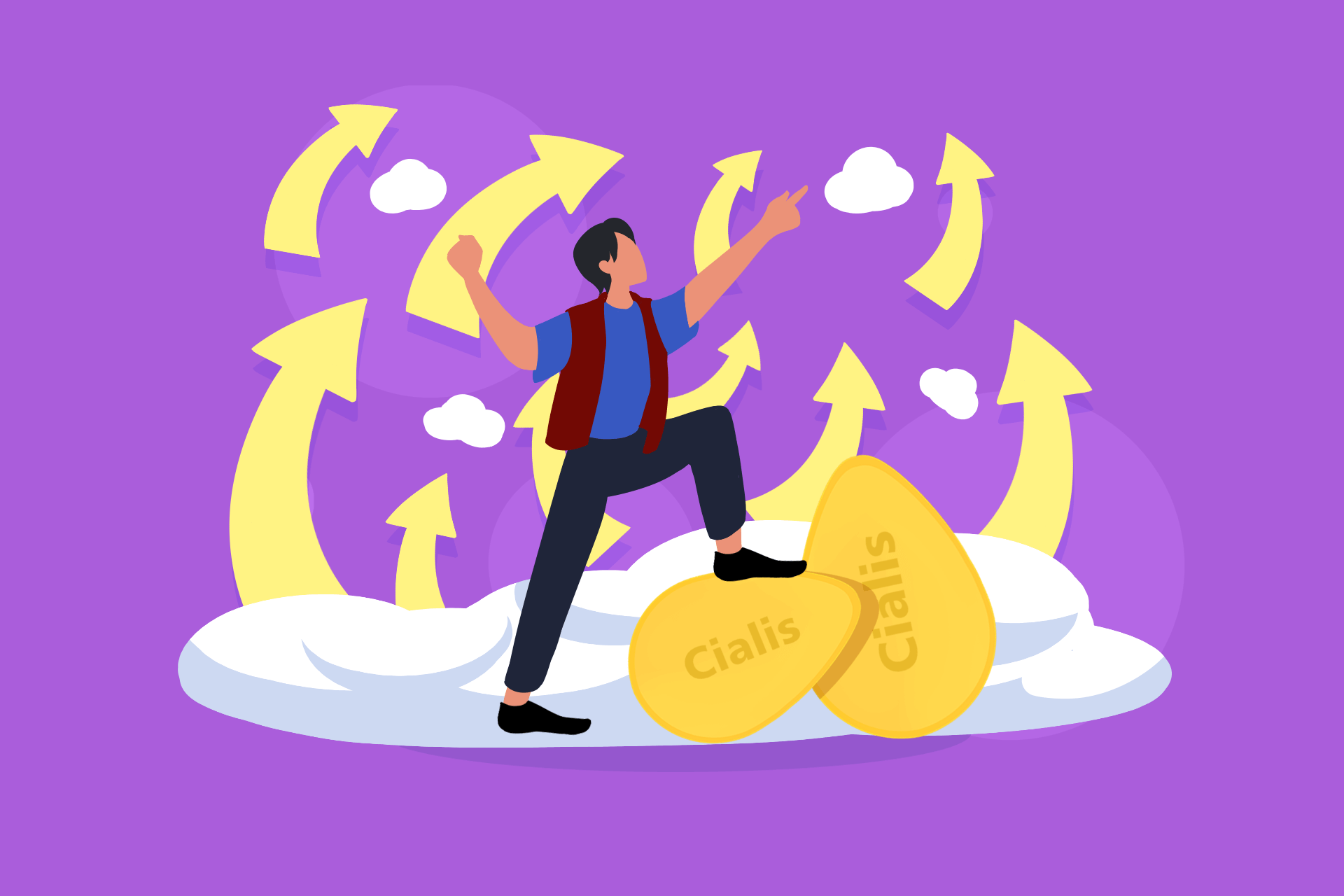 This exceptional guide explores whether the drug causes such experiences after ingestion. Let's get started!
Brief Info About Cialis
Made by Eli Lilly and Company, Cialis is a safe medicine used to manage symptoms of impotence in men. It was approved by the Food and Drug Administration (FDA) for this purpose in 2003 [1]. It's taken as an oral tab, either as a daily low-dose medication or as a "on-demand" high-dose treatment. Cialis contains tadalafil as its active ingredient. It belongs to a class of meds dubbed phosphodiesterase type 5 (PDE5) inhibitors. Cialis is a brand-name drug, but it's also available in a generic form sold under different trade names. Both the branded med & generic counterparts are identical in functionality, benefits, side effects, & contraindications. However, the only difference is the cost – generics are much cheaper.
Daily doses of Cialis are available in 2.5 mg & 5 mg tablets. Physicians normally start by prescribing their patients a 2.5 mg dose, though 5 mg may be suitable if needed for more remarkable efficacy. Besides, "on-demand" doses are available in 10 mg & 20 mg pills. Physicians usually recommend starting with a 10 mg dose & moving up to 20 mg if a higher dose is required to get the desired results [2].
With an "on-demand" dose, you should administer the tadalafil tab at least 30 minutes before sexual activity, though note that it could take up to one hour for the med to take effect. The onset of action is usually based on your body's metabolism, weight, drugs taken alongside Cialis, etc. Take daily doses at about the same time every day.
Tadalafil lasts up to 36+ hours for some individuals, which is longer than Viagra. Daily use of the drug allows for more spontaneous sex life. It can be administered with or without food.
Does Cialis Make Women Horny?
Similar to Cialis for men, tadalafil may augment blood flow to the genital area in females. Nonetheless, female sexual dysfunction (FSD) is a complicated condition. It involves social, psychological, & physical components. Because of that, it's unclear if tadalafil would address some FSD aspects like sexual desire, arousal, or physical impediments to sexual fulfillment induced by aging or other medical problems [3].
It's true that tadalafil promotes blood flow to the penis by hindering the activity of the PDE5 enzyme in men. However, in females, PDE5 doesn't block blood flow to the genitals to the same extent as it does in males. This implies that it's improbable to have much of an influence on females. Also, females don't depend on blood flow as much as males to have sex. During sexual arousal, the female vagina secretes fluid, lubricating the area. To get in this state, sexual stimulation is required. Since Cialis has no impact on sexual arousal, it won't make females horny.
Does Cialis Make Men Horny?
Cialis belongs to a class of meds dubbed vasodilators. Their mode of action is to relax the smooth muscles in the vascular system, causing the blood vessels to dilate, & heighten blood flow throughout the body. The drug helps males experiencing ED achieve ameliorated sexual power for complete & satisfying intercourse that can last longer. However, vasodilators don't in any way make you horny or improve your sex drive; they simply aid your body in functioning more expeditiously if stimulated. Taking drugs like Cialis, especially on an empty stomach, will help you get a strong erection. However, you have to be "in the mood" to experience satisfying sexual activity. Certainly, extensive foreplay + other acts to achieve the state of arousal are welcome.
What If You Are Not Horny on Cialis?
Cialis isn't an aphrodisiac, and it has no chemical mechanisms that make you horny. In this regard, the logic is that its active ingredient, tadalafil, acts on the mechanism that controls penile erection.
Take note that tadalafil's primary purpose is to augment blood flow to the penis, which results in correcting erectile dysfunction.
By far, Cialis is one of the most powerful meds that makes it easy for you to get & maintain a quality penile erection, but it can't by any means turn you on. If you have no libido & aren't in the mood for sex, the drug won't do anything for you. If you need to heighten your libido, certain testosterone supplements may ultimately be beneficial.
Conclusion
ED pills such as Cialis don't make you horny or cause instant hard-ons. They only begin functioning after a man gets turned on. Cialis doesn't heighten male sexual desire; it primarily augments blood flow to the penile area. With a deficiency of sexual stimulation, the tadalafil tab doesn't cause any form of erections. The drug improves erections for amazing sexual excitement if you're already in the mood for intercourse. There's no way for it to form a feeling of arousal.
References:
Cialis FDA Approval History. Retrieved: December 23, 2022. Drugs.com.
Cialis Dosage Guide. Retrieved: December 23, 2022. Drugs.com.
Tadalafil Once Daily: Narrative Review of a Treatment Option for Female Sexual Dysfunctions (FSD) in Midlife and Older Women. By C. Borghi and L. Dell'Atti. Published March 31, 2017. Semanticscholar.org.