Viagra works! Most men who use it report experiencing a remarkable improvement in their erectile function and sexual performance, but they all complain about one major issue – its high cost! Fortunately, there are now far cheaper generic alternatives that contain the same active ingredient and thus provide the same level of safety and effectiveness.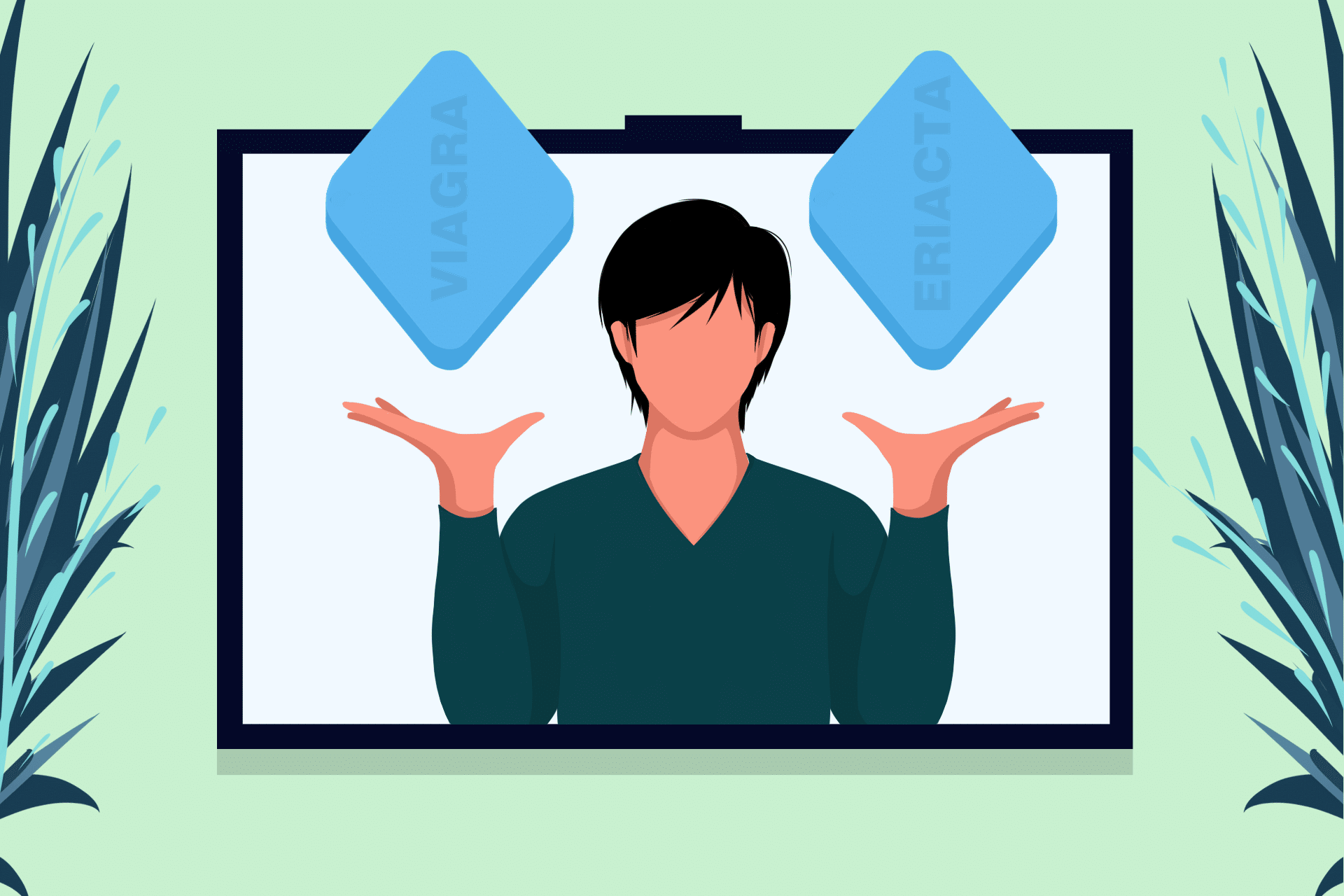 Eriacta 100 mg is one of such drugs, but is it really safe and worth your buck? Let's find out!
Some Information About Eriacta 100
Eriacta 100 mg is a medication used to treat erectile dysfunction (ED) in men, making it easy to achieve and sustain an erection long enough for penetrative sex. It is one of the newest generic versions of Viagra that is fast rising in popularity. The fact that it's a Viagra generic medication means that it contains the same active ingredient (sildenafil citrate) and should therefore provide the same effects.
But is this true?
Well, let's take a dive into what generic drugs actually are and if they are just as effective as their brand name counterparts.
Generic drugs are medications made to be exactly the same as existing brand-name medicines, which are approved by the Food and Drug Administration (FDA), in safety, dosage, effectiveness, and side effects. They're typically produced by different companies other than the original one that manufactures the branded drug [1].
Interestingly, they're usually up to 3X cheaper even when providing the same effects, and here's why. Pharmaceutical companies spend a lot of money during the developmental phase of a new drug. They spend on research and clinical trials, and when they have a good drug, they spend tons of cash marketing it.
In order to make back all their money spent, they patent the new drug so that no other company can produce or sell it. Drug patents usually last for 20 years; after their expiration, other pharmaceutical companies then become free to copy the drug formula and produce their own versions. These versions are called generic versions, and they are typically cheaper because the new manufacturers do not have to spend on research, trials, and marketing.
Contrary to speculations, generic medications are as effective as the brand name versions they're made after. The FDA demands that generic drug manufacturers prove that their products contain the same active ingredients, offer the same benefits, and can be substituted for their brand-name counterparts [2].
Eriacta 100 mg is an excellent Viagra generic, and it offers the same level of safety and effectiveness at a much lower price. Besides theoretical expectations, most men who have used it report achieving remarkable results. Like its brand name counterpart, it is well-tolerated and will work for most people who take it. It's only to be used by men 18 years of age and older. Do well to consult your doctor before taking this or any other drug.
Main Features of Viagra
Viagra is a popular ED medication, perhaps one of the most popular ones in the world. It is safe, well-tolerated, and super-effective for treating varying degrees of impotence. It was accidentally developed by a Pfizer scientist who was trying to create a drug for angina pectoris (chest pain) in 1989. Few years down the line, on March 27, 1998, the FDA approved it for medical use, having confirmed its safety and effectiveness [3].
Viagra is well-tolerated and effective in 90% of men. Perhaps this is the reason why it has grown in popularity, becoming most men's favorite.
The drug has helped millions of men around the world achieve better erections, and it may be able to help you or your partner too. However, it is important that it is used correctly and in line with your doctor's recommendations. Consult your doctor before starting treatment with this drug.
Comparison of Eriacta 100 mg vs Viagra
Eriacta 100 mg vs. Viagra: Is there any real difference between these remedies? Well, not so much. Both drugs contain the same active ingredient; thus, they provide the same effectiveness and possess similar characteristics. However, it is worth noting that they do not contain exactly the same inactive ingredients, and this accounts for some very minor differences.
Take a look at the table below to see the similarities and differences between both medications.
| | | |
| --- | --- | --- |
| Brand Name | Viagra | Eriacta 100 mg |
| What is the active ingredient in this drug? | sildenafil | sildenafil |
| Who is the manufacturer of this drug? | Pfizer Inc. | Sun Pharmaceutical Industries Ltd. |
| What form does it come in? | oral tablet | oral tablet |
| What are the available strengths? | 25 mg, 50 mg, 100 mg | 100 mg |
| What is the recommended initial daily dosage? | 50 mg | 100 mg |
| When should you take it? | 30 to 60 minutes before sexual activity | 30 to 60 minutes before sexual activity |
| What is the drug's duration of action? | 4–5 hours | 4–6 hours |
| How do I store it? | at room temperature of 680F to 770F (200C to 250C), away from moisture, heat, light, and out of the reach of children | at room temperature of 680F to 770F (200C to 250C), away from moisture, heat, light, and out of the reach of children |
The inactive ingredients in both drugs account for their difference in taste and may be responsible for the slight disparity in their duration of action. If you're wondering why Eriacta contains slightly different inactive ingredients than Viagra, it is to effect the changes in physical characteristics (e.g., taste) and possibly improve on its action, as evident in its duration of effects.
While generic medication manufacturers are required to produce generics that contain the same active ingredients as their brand name counterparts, they aren't restricted from slightly altering the inactive ingredients. Note that such changes do not affect the safety and effectiveness of the drug in any way.
One of the most striking differences between Eriacta and Viagra lies in their cost. While a single tablet of brand name Viagra 100 mg goes for around $83, a tablet of Eriacta 100 mg costs between $0.79 and $2.99 [4]. Note that contrary to speculations, Eriacta's lower price does not make it inferior to Viagra in any way. As discussed earlier, its cheapness is only due to the fact that it is a generic medication.
Best Places to Buy These Drugs OTC Online
Whether you're looking to buy Viagra, Eriacta 100 mg, or any other drug online, it is advisable to source it from a reliable and trustworthy store. This is to ensure that you enjoy an excellent shopping experience and avoid being sold counterfeit pills that will be ineffective and perhaps detrimental to health.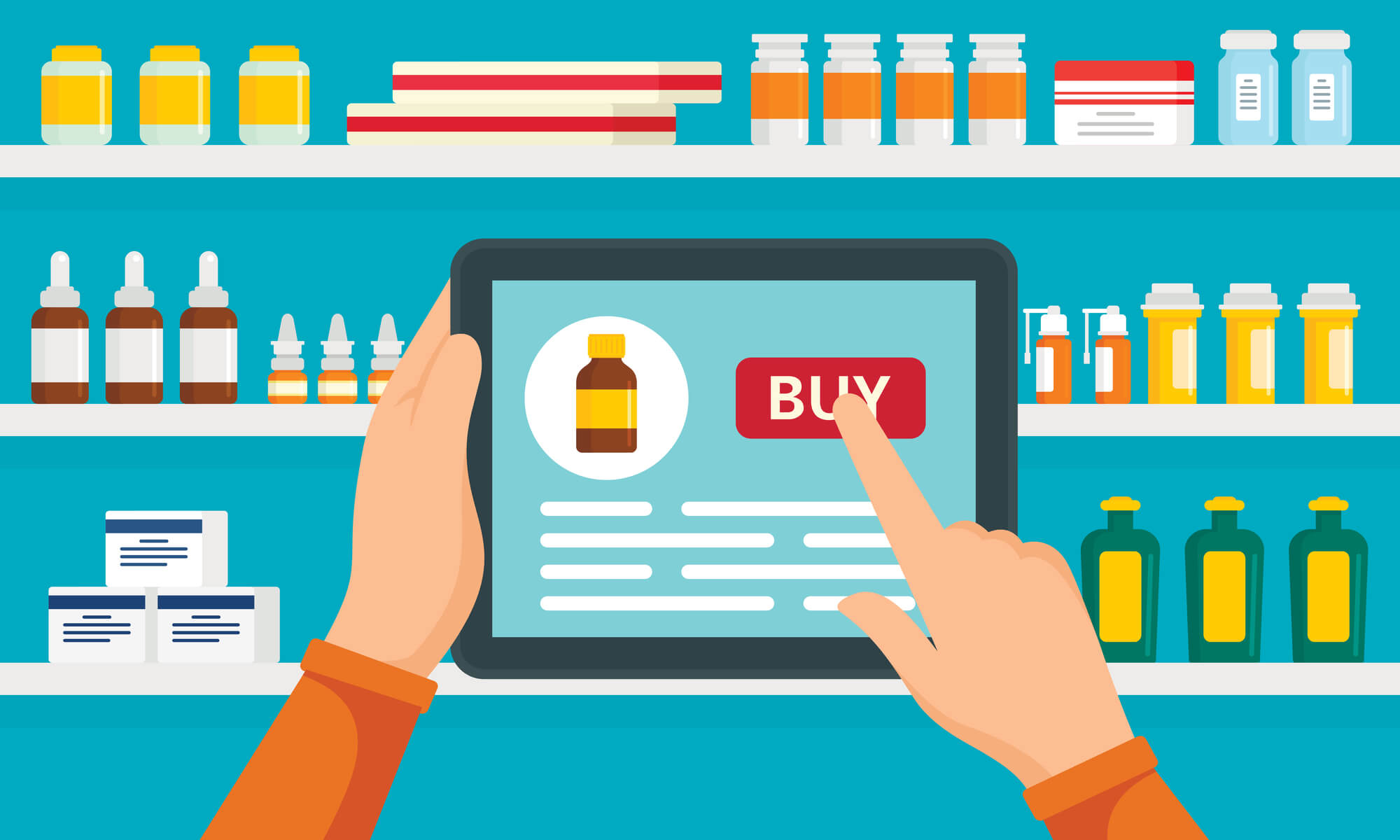 Don't know any reliable e-pharmacy? No worries, here are some of the best places to buy these drugs over the counter (OTC) online.
ViaBestBuys.com
ViaBestBuys (VBB) is one of the most reliable online pharmacies that can be trusted to deliver high-quality generic Viagra, Eriacta, and a wide range of other ED meds.
It fulfills orders fast and provides a sort of insurance for its customers. Thus, in the event that a product gets delayed by customs, goes missing, or gets damaged, the pharmacy provides a refund or reships the parcel without dragging the issue.
Individuals from around the world can place their orders on the platform and have the parcels delivered to their doorsteps, as VBB ships to most parts of the world. Unfortunately, it does not ship directly to Mexico, Brazil, and other countries with strict customs laws. But this doesn't mean people residing in such countries are completely left out. They can still place orders and receive them by using parcel forwarding services such as Skypax.
As an incentive to retain its customers, VBB offers lots of discounts, bonuses, and juicy deals. Some of them include a special 25% discount for customers who pay with Bitcoin, free sample pills, and 10 extra Cialis or Viagra soft tabs to returning customers, among others.
Making payments on the website is typically hassle-free, as the vendor accepts multiple payment methods, including all major credit cards, PayPal, crypto, and AmEx.
ViaBestBuys.com fulfills orders with Express Mail Service (EMS) and Airmail. If you're buying from the US, the UK, the EU, Australia, or New Zealand and choose EMS as your preferred shipping method, you can expect to get your parcel within 7–12 business days. On the other hand, if you choose Airmail, it may take 10–18 days.
However, irrespective of the shipping option you choose, if you're buying from countries outside those mentioned above, your parcel may take 14–30 days to get delivered. You may refer to the Shipping FAQ section to find out more about its shipping services.
CialisBit.com
Mention 3 trustworthy and reliable online pharmacies without mentioning CialisBit (CB), and that list will be considered incomplete.
CB has an excellent track record of providing unparalleled customer service and delivering high-quality meds to buyers. It currently has hundreds of positive reviews on trusted review platforms such as Trustpilot and Yotpo, which speaks volumes about its reliability. Unfortunately, the vendor does not sell Eriacta 100 mg, but it offers lots of other safe and highly effective alternatives, such as Viagra Soft and Kamagra, among others.
Like VBB, CialisBit ships to most countries, except for those with stringent import laws. Some of the countries it doesn't ship to are as follows:
Brazil;
Israel;
Ireland;
Taiwan;
Pakistan;
Indonesia;
South Africa;
Saudi Arabia;
the United Arab Emirates.
However, if you reside in any of these countries, you may still place your orders by employing the services of parcel forwarding companies.
The pharmacy ships parcels via EMS and Airmail. With EMS, the waiting period for orders from the EU, the USA, the UK, New Zealand, and Australia is 7–12 business days, while those from other countries may take 10–18 days. Orders to other parts of the world may take 14 to 30 days irrespective of the shipping option employed.
One of the benefits of ordering ED meds from this pharmacy is the fact that it provides free standard shipping on all orders worth $130 and over. Others include free trial samples, bonus pills, and discounts such as 25% off for Bitcoin payments.
HighStreetPharma.com
HighStreetPharma (HSP) is yet another reliable e-pharmacy you can bank on for high-quality meds, affordable pricing, and excellent customer service. It has generic Viagra, Eriacta 100 mg, and a wide range of other drugs up for sale, and their quality is guaranteed, as it sources them directly from trusted manufacturers.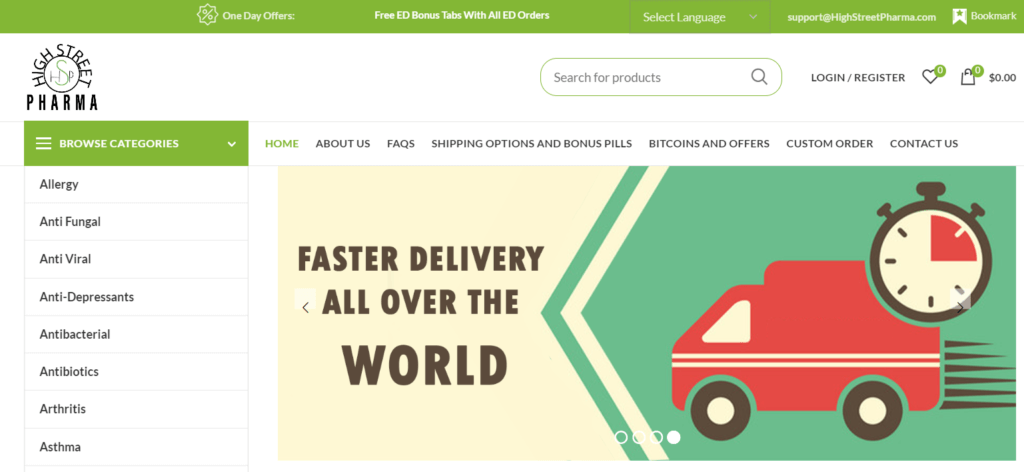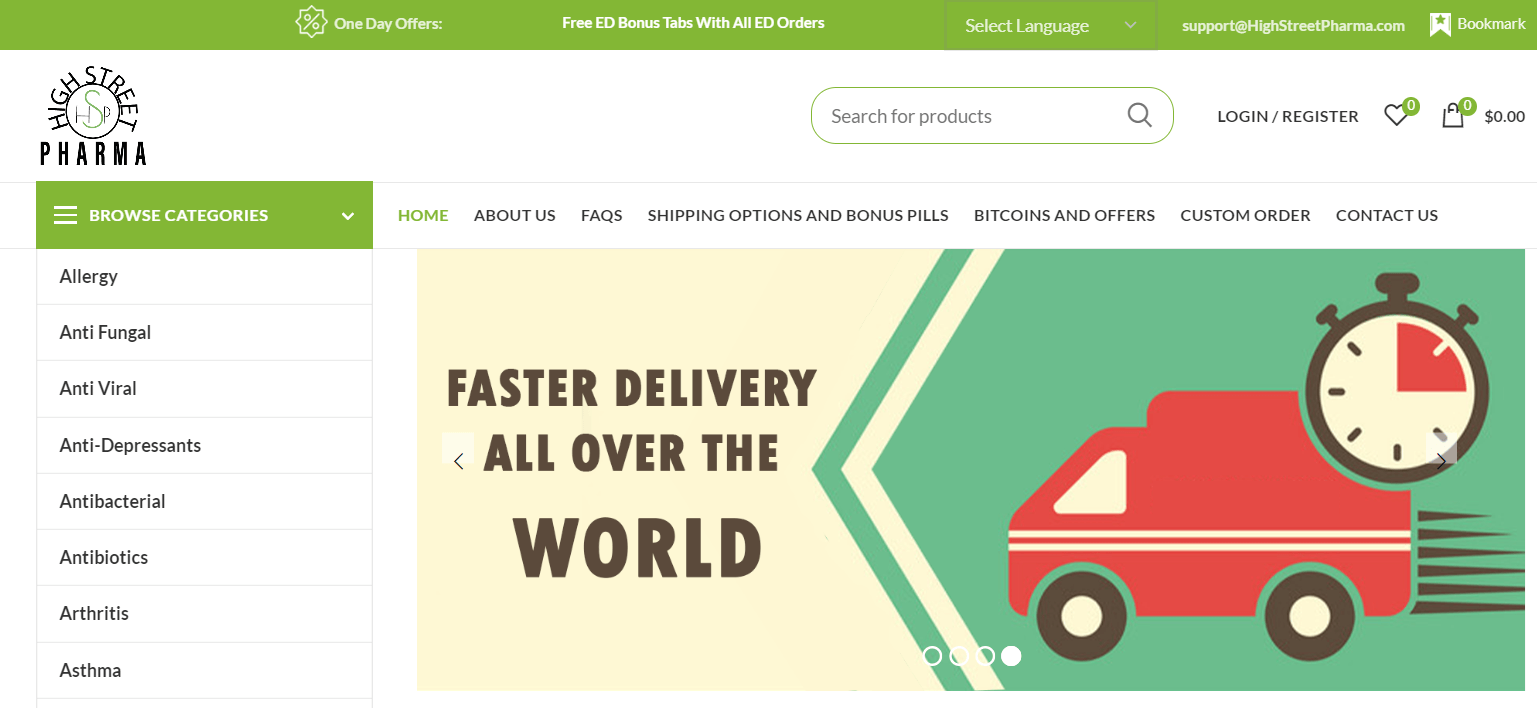 HSP ships worldwide. However, while it offers a genuine money-back guarantee for lost, damaged, or customs-over delayed parcels, it doesn't extend it to cover countries with strict import laws. Making payments on this platform is very easy, as it accepts multiple payment methods, including crypto, PayPal, gift cards, e-Checks, and all major credit cards.
Dosage Guideline for Viagra vs Eriacta 100
Getting the best results out of any of these drugs is greatly dependent on how it is used. Here is the correct dosage guideline for them.
For Viagra, the recommended initial daily dosage is 50 mg.
Note that taking more than this dose per day may increase the risk of experiencing unwanted side effects.
If you find this dosage too stimulating (i.e., you are getting a better erection but also experiencing prolonged side effects), it may be necessary to step down to the 25 mg dose. On the other hand, if you find it ineffective, then stepping up to the 100 mg dose might work just fine. However, it is inadvisable to switch doses on your own; only do so at the request and under the supervision of your doctor.
For Eriacta 100 mg, the recommended daily dosage is 100 mg. This is the only available strength for this drug, and if you find it too stimulating, you may need to switch to another brand entirely. Do not split this drug in the bid to reduce or add to the fixed dosage.
Both medications are to be swallowed whole with a substantial amount of water. They can be taken with or without food but should not be dissolved in water, split, or crushed. Consult your doctor before starting treatment with either brand.
Eriacta 100mg and Viagra: Side Effects
Every drug has side effects, and Eriacta 100 mg and Viagra are no exception.
Note that both meds have similar side effects, as they contain the same active ingredient.
These adverse effects are mostly mild but may be severe if the drugs aren't used correctly. Common side effects associated with sildenafil citrate are as follows [5]:
indigestion;
headache;
stuffy nose;
dizziness;
flushing;
nausea.
Note that it is completely normal to experience some of these side effects when you just start taking these drugs or any other. The adverse effects often stop occurring as the body gets used to the medication. This might take anywhere from several hours to a few days.
More serious negative after-effects that may result from the use of either of these drugs are the following [6]:
priapism;
sudden hearing loss,
shortness of breath;
sudden loss of vision;
swelling in the hands;
ringing in one or both ears.
These side effects rarely occur, but as stated earlier, they're mostly caused by using the drug incorrectly. They can be very severe and even life-threatening. Seek urgent medical attention if you notice any of these symptoms.
Interaction with Other Drugs
Drug interaction is a change in the way a drug works when it is taken alongside one or more meds it does not mix well with. Interactions may cause one, more, or all of the drugs taken concomitantly to be ineffective or may lead to serious side effects. Viagra and Eriacta 100 mg equally have similar interactions because of their common active ingredient – sildenafil citrate.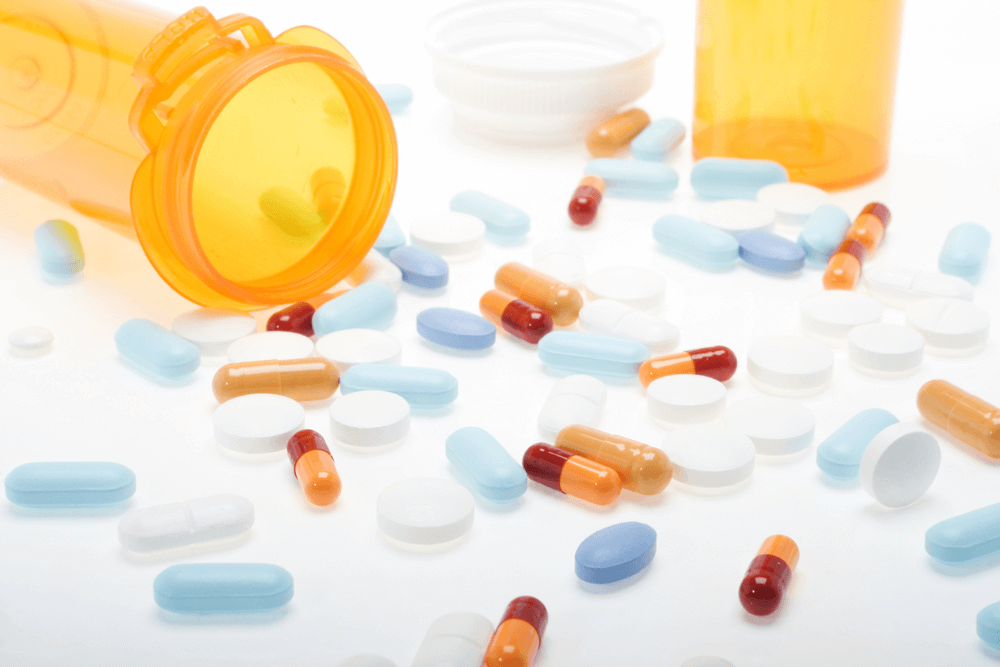 When taking these drugs or any other sildenafil citrate-based product, avoid the following meds:
HIV protease inhibitors;
antibacterial drugs such as clarithromycin;
antifungal medicines such as ketoconazole;
nitrates such as nitroglycerin;
some pulmonary hypertension drugs such as riociguat;
some blood pressure drugs such as calcium channel blockers.
What's more, sildenafil citrate interacts negatively with grapefruit and grapefruit juice. Also, it doesn't go well with alcohol. There are other substances that may interact negatively with these drugs. Refer to the drug's patient information leaflet and talk to your doctor to get a more comprehensive list.
Recap
Viagra is an excellent medication for effectively treating ED, and Eriacta 100 mg is no different. Both drugs contain the same active ingredient and thus provide the same benefits, side effects, and interactions.
But which product is better than the other?
Well, both brands are one and the same thing, and no one is actually better than the other. The best one for you will depend on the expected duration of action and your budget. Eriacta 100 mg has a longer duration of action than Viagra and is far cheaper. If this sounds like a great deal for you, then Eriacta may be the best option for you.
For fear that generic drugs are inferior given their incredibly low cost, some men go for the more expensive option. However, as indicated by the FDA, generics are not inferior to their brand name counterparts. As long as you're buying them from a reputable and trustworthy vendor, you can expect to achieve great results.
Remember to consult a doctor before starting treatment with Viagra, Eriacta 100 mg, or any other drug.
References:
Generic Drugs: Questions & Answers. Retrieved: August 19, 2021. Fda.gov.
What's the Difference Between a Brand-Name Drug and a Generic Drug? By Dan Wagener, MA. Retrieved: August 19, 2021. Goodrx.com.
Sildenafil. Retrieved: August 19, 2021. Wikipedia.org.
Viagra Prices, Coupons & Patient Assistance Programs. Retrieved: August 19, 2021. Drugs.com.
Sildenafil (Viagra): Medicine for Erection Problems. Retrieved: August 19, 2021. Nhs.uk.
Side Effects of Viagra (Sildenafil Citrate): Warnings, Uses. Retrieved: August 19, 2021. Rxlist.com.