Cialis, one of the most popular drugs for erectile dysfunction (ED), comes in various doses. Some men consider purchasing the higher dose strengths and cutting them in half to spend less money than was planned. This guide discusses the main features and dosage of Cialis. It also covers the best tips on how to cut a Cialis pill in half and a verdict on the subject.
Disclaimer: Although we discuss the said considerations, we are not encouraging men with ED to split pills. It's paramount to always follow the physician's advice and prescription. This guide isn't about medical advice; it can be just the suggestions that, we think, may be useful if you're considering saving more money or you don't have the required dosage you need to take.
Main Features and Dosage of Cialis
Tadalafil is an approved active ingredient that's sold under the trade name Cialis® among others. It's a powerful medication used to treat impotence. It is available in tablet form and is taken by mouth. It's a longer-acting med compared to the famous ED remedy – Viagra® (sildenafil). It's available in various strengths: 2.5 mg, 5 mg, 10 mg, & 20 mg. To take it daily, opt for lower doses. The working effect of Cialis is to provide quality erections, thus negating ED.
There are several instances in which you may not be able to use tadalafil, & you should talk to your physician about whether it's safe for you. This med can cause some side effects as well as disease interaction. It's best to use it wisely having consulted a physician.
Cialis works relatively swift but not as fast as Viagra. It can take about 30 minutes to 2 hours for the full effects of tadalafil to kick in, though it only takes about an hour for sildenafil to work fully. Studies depict that Cialis is absorbed rapidly, and this is not influenced by the timing of meals [1]. On the other hand, the effects of Cialis last clearly longer – normally up to 36 hours (1.5 days) or so. This is one of the reasons why some men prefer this remedy. It awesomely allows for more spontaneous intercourse. However, sexual stimulation must exist for this pill to work anytime within 36 hours after ingestion.
Regarding the Cialis dosage, you need to follow safe, advisable doses. In this case, you've got two options: you can ingest one of the higher-dose tabs on an as-needed basis or you can consume the smaller-dose tab once daily regardless of intercourse. A 10 mg tab is usually an advisable daily dose taken as needed, though some men might realize that a lower dose of 5 mg or a higher dose of 20 mg works better. According to research, there is no significant difference in safety or efficacy between these two options [2].
The maximum recommended dose of Cialis is 20 mg once daily. What happens if you ingest above 20 mg? It's extremely risky to increase the dose to 40 mg or so. The med affects other parts of the body, which can result in unwanted negative effects [3]. However, some men with severe ED may find the 40 mg dose strength to be most effective & well-tolerated. If higher doses don't work or aren't well-tolerated, you can consider ingesting a lower-dose tab every day. This might be ideal if you prefer to be more spontaneous.
I'd had a few unsatisfactory sexual experiences of late. "I'm too young/healthy/horny to be having these problems", I'd said to myself. So after browsing the internet for options. "Free Trial Pack" sounded like just the thing for me. So I placed my order. Normally on first sexual encounters, I am nervous and tentative (knowing I have had troubles before), but this time I was locked and loaded and extra confident. The pill worked. I was as "ready" as I'd ever been. We had a great time, a few times, and she calls me up for a visit quite often now. If you think you could use a boost, give it a try. No complaints here.
Not sure what to get? ViaBestBuys offers a free sample pack of three of the most popular ED pills (Viagra, Cialis, and Levitra) delivered by mail straight to your doorstep. Free pills are already in your cart >>>
I have been ordering from ViaBestBuys for almost four years. Their products are virtually indistinguishable from brand-name products. In other words, their products really work. In addition to excellent products, their service department is helpful and understanding. They always respond even to the same question with patience. COVID-19 slowed the delivery time but all parties had little control over that. If you need your Viagra or Cialis supply fast, there is a US domestic shipping option available which takes 3-4 days on average. More TrustPilot reviews
Splitting Cialis Pills: Any Sense?
Because the Cialis tabs come in 4 distinct strengths, some of them can be cut in half, as they are not coated in any extended-release coating. Contemplate that it's not advisable to cut either branded Cialis or generic tadalafil tabs for a variety of considerations. Nonetheless, splitting a tablet in half is a regular practice for most men, which generally shouldn't have notable negative consequences. Indeed, it's not uncommon for physicians to recommend cutting Cialis tabs as a cost-saving measure for patients.
The core reasons why Cialis® & associated generic tabs shouldn't be split are as follows:
Cialis® tabs have a non-symmetrical shape;
generic tadalafil tabs, several of which are symmetrical, are usually film-coated. Cutting these pills will obliterate the film coating:
split Cialis® tablets have not been tested for efficacy or safety;
neither branded nor generic tabs are scored.
Branded Cialis® pills, like Viagra, come in an odd, non-symmetrical shape, which makes it hard for a user to evenly split a tab into two pieces. This may potentially result in inconsistent dosing. Besides, generic Cialis meds shouldn't be split too, even though most of the tabs (from various pharmaceutical companies) come in a symmetrical shape. The core recommendation not to split these meds is mostly because of the film coating.
Various reasons why a tablet may be film-coated exist. Such pills are generally easier to swallow & less likely to trigger throat irritation than non-coated ones. Besides, some film coatings are intended to protect the tab from dissolving in the stomach. This reduces the risk of certain negative effects such as nausea & can also assist in making the medicine more efficacious by averting early degradation by stomach acid [4]. Generally, the film coating of tadalafil medicine is intended only to ease swallowing as well as to protect the tabs from excess moisture.
It is paramount to point out that neither original Cialis® tabs nor generic versions are scored. Even with the use of a pill splitter, the non-scored tablets can be difficult to split evenly. Besides, during clinical trials for tadalafil, Eli Lilly and Company (a maker of branded Cialis) only looked at the use of whole tabs. There is no documented safety or efficacy info on the use of split tabs. Therefore, the generic versions have no info on split tabs either.
Best Ways to Cut Cialis Tablet in Half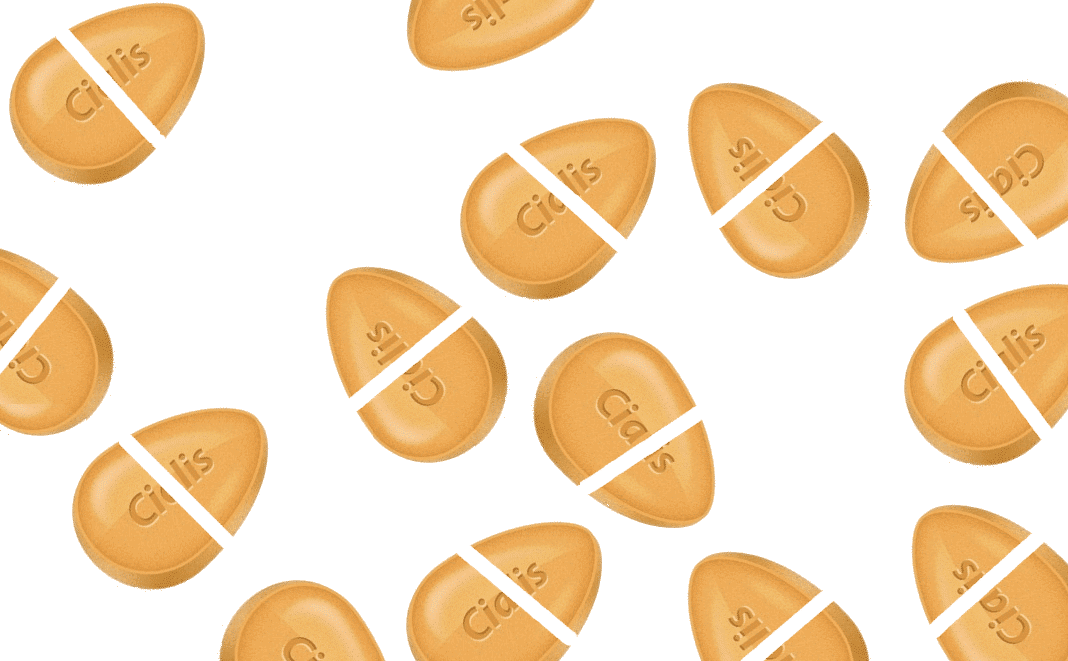 Can you fathom the best ways to cut your ED remedy in half? Why not? Having discussed all of the above info, splitting ED meds like Cialis is a fairly regular practice. Your physician may even advise you to do it if dose adjustment is needed or as a cost-saving strategy. No reported safety issues have been made if cutting either the original Cialis® or generic tadalafil tabs. Besides, they are not on the Institute for Safe Medication Practices (ISMP) list of meds that should not be crushed [5].
If you take Cialis & your physician has advised you to split it to adjust your dose or as a cost-saving measure, be vigilant in doing so since it can be challenging to cut the oddly oblong-shaped tabs & since they aren't scored. If you have a generic version of tadalafil that is symmetrical, then it should be easier to split evenly than the original drug.
First, contemplate that most tabs are made to have a 100% homogeneous mixture [6]. This depicts that splitting the Cialis dose in half will make each half have the same efficacy as the other half provided it was evenly cut. If you have generic Cialis tabs that are made with an extended-release coating, never crush or break them. If you buy genuine generic pills that have a score line on them, then they can be easily split into equal parts.
How sure are you that you can split the tablet into equal parts? The problem is that cutting pills with a kitchen knife or with some other household tool won't generally divide a tab into equal halves. It's practically best to use a pill splitter purchased at a pharmacy that can divide your medication more precisely.
The best ways to cut the Cialis tablet in half using improvised tools are as follows:
use a nail clipper: In this case, it's obligatory to separate its parts. Then open it (by force) until the tablet fits & press it hard. While cutting, make sure it doesn't crumble;
you may consider creating your own score and then snap it with your hands in half if you can. Obviously, in the process, you will lose some medicine. You can opt to use a scalpel that's very thin & sharp in order to make this loss minimal;
straighten out a staple, thin nail, paper clip, or piece of wire & tape it to the table so it can't move around. Then place a tadalafil pill on top of the wire so it can remain balanced, scored side up, with the score going right over the wire. Try to press down on each side of the tab with your thumbs. The wire acts as a fulcrum & the tab splits. You need to apply enough force to split the pill;
use nail scissors for cats/dogs. This method works like a charm, but you have to ensure you buy the ones that will fit your tadalafil pill into the jaws.
If those methods don't seem to work well for you, you may consider purchasing a pill cutter that, you think, fits a Cialis tablet well. Some of the best brands include:
Equadose Pill Cutter: It gives you ideal halves every time;
Apex Deluxe Pill Splitter: It holds pills securely & makes for an easy one-handed operation;
Ezy Dose Cut N' Crush: Its flexible arms with ridges cut larger tabs than the other pill cutters & hold any size tab steady while it's being cut;
Large Swiss Pill Cutter: It's the "Rolex" of pill cutters;
Pillcut Multiple Pill Splitter: This tool cuts tabs efficiently.
Regarding where to purchase the said tools, consider Amazon or other reputable sellers. You might have another efficacious idea or a cheaper means of splitting the Cialis tablet in half, but make sure it won't crumble it [7].
Conclusion
Original Cialis® comes as an oval-shaped tab without an extended-release coating on it. Because of this, it can be split in half. Nonetheless, this med doesn't have a score line making it hard to split into equal parts. On the other hand, all approved tabs are made to have a completely homogeneous mixture, so if split in half, the outcome will be equal doses.
Overall, although the safety and efficacy of cutting Cialis into equal halves have not been studied, it's not dangerous since you get similar meds with equal dose strengths – 50% each of the total with tadalafil active ingredient. That is, if splitting the 20 mg Cialis tab, you'll get 10 mg each. However, though Cialis is not on the list of meds that shouldn't be split, its maker, Eli Lilly and Company, advises users not to do so.
References:
Tadalafil pharmacokinetics in healthy subjects. By S. Thomas Forgue, Beverley E. Patterson, et al. Published: December 20, 2005. Ncbi.nlm.nih.gov.
Efficacy and Safety of Tadalafil Once-a-Day versus Tadalafil On-Demand in Patients with Erectile Dysfunction: A Systematic Review and Meta-Analyses. By Zhufeng Peng, Lu Yang, et al. Published: June 21, 2007. Pubmed.ncbi.nlm.nih.gov.
Can I Take 40 mg of Tadalafil (Cialis) for ED? By Malini Ghoshal, RPh, MS. Medically reviewed by Joseph Brito III, MD. Published: September 30, 2020. Healthline.com.
Using medication: Oral medications. Published: April 13, 2011. Updated: August 10, 2017. Retrieved: March 29, 2021. Ncbi.nlm.nih.gov.
Oral Dosage Forms That Should Not Be Crushed. Published: February 21, 2020. Ismp.org.
If 20 mg Cialis is cut in half is the pill destroyed or 10 mg each? By 2ndaddress. Published: October 1, 2009. Updated: September 10, 2020. Retrieved: March 29, 2021. Drugs.com.
How to cut a pill in half without a pill cutter? Retrieved: March 29, 2021. Lifehacks.stackexchange.com.