Viagra is not merely a med; it's a beacon of hope for millions of individuals grappling with a common yet deeply disturbing sexual issue – erectile dysfunction (ED). As Viagra gained popularity, so did the curiosity surrounding its interactions with other drugs. Most people are pondering the question: Can I take this drug with another drug together? One such medication that has piqued interest is Duodart. What are the dynamics of mixing these two drugs, and how much should you take?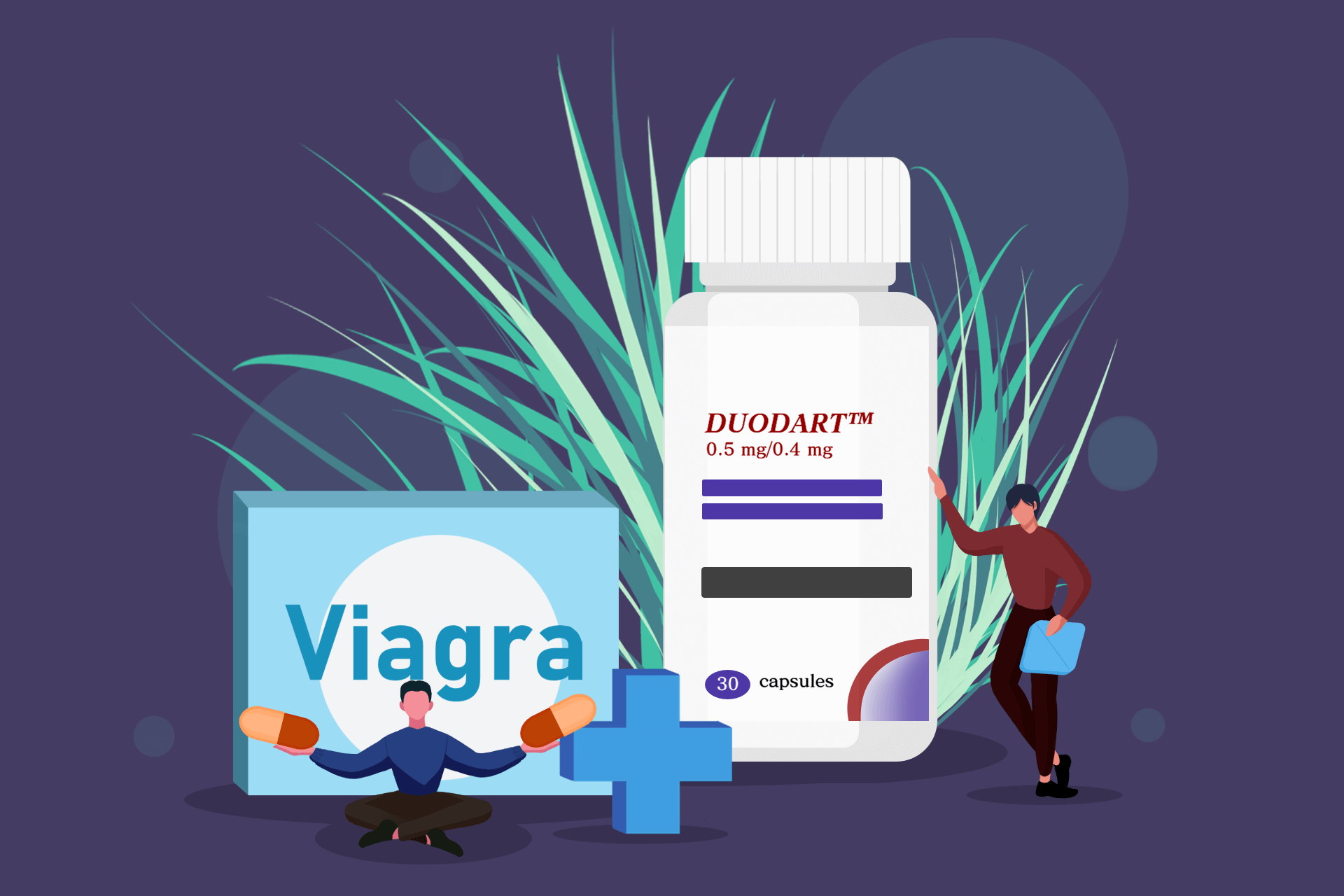 This guide examines all the info you need to know about Duodart and Viagra interaction. It delves into the intricacies, providing insights, safety considerations, potential side effects, and where to buy them online. So, if you've ever wondered about the interplay between these two meds, you're in the right place. Let's dive in.
What Exactly Is Duodart?
Duodart is a medication used to treat benign prostatic hyperplasia (BPH), an enlargement of the prostate gland that can cause urinary symptoms [1]. It contains two active ingredients: dutasteride, which reduces the size of the prostate over time by inhibiting hormone conversion, and tamsulosin, which provides rapid relief by relaxing muscles in the prostate and bladder neck. Dutasteride is classified as a 5-alpha reductase enzyme inhibitor, while tamsulosin hydrochloride falls into the category of alpha-blockers among medicines. Duodart is available in both brand-name and generic forms, with generic options offering cost-effective alternatives while maintaining the same therapeutic benefits.
Duodart works by addressing the underlying cause of BPH and relieving urinary symptoms. However, it should be prescribed and monitored by a healthcare professional due to potential side effects and interactions.
What Is Viagra Medicine?
Viagra, the brand name for sildenafil citrate active ingredient, revolutionized the treatment of ED when it was introduced to the market. It was originally developed by a team of scientists working for the pharmaceutical company Pfizer in the late 1980s and early 1990s. The drug was initially intended for the treatment of hypertension (high blood pressure) and angina pectoris (chest pain associated with heart disease). During clinical trials, an unexpected but significant side effect was discovered – improved erectile function. This discovery led to the repositioning of sildenafil as a treatment for ED [2].
The med received its first approval from the U.S. Food and Drug Administration (FDA) on March 27, 1998, as the first oral med for the treatment of impotence [3]. This marked a historic moment in the field of sexual health, offering millions of men a safe and effective solution to a common and often distressing condition.
Viagra works by inhibiting an enzyme called phosphodiesterase type 5 (PDE5), which regulates blood flow to the penis. By blocking PDE5, Viagra increases blood flow to the erectile tissues of the penis, facilitating and maintaining erections when sexual stimulation occurs [4].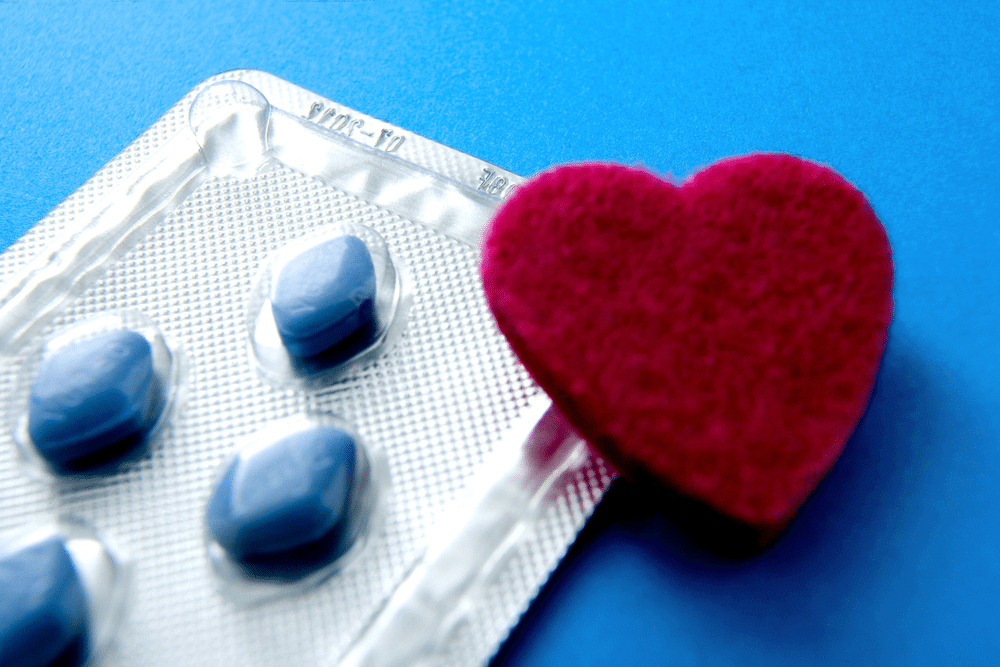 Viagra's patent has already expired in various countries, allowing other pharmaceutical companies to produce generic versions of sildenafil. These generic versions contain the same active ingredient, sildenafil citrate, and are equivalent in terms of safety, dosage, quality, and efficacy. Some well-known generic versions of Viagra include Sildenafil, Suhagra, Kamagra, Viagra Soft, and Super P Force. The latter is a med used to treat both ED and premature ejaculation (PE). It comprises 100 mg of sildenafil citrate and 60 mg of dapoxetine.
Can You Take Duodart and Viagra Together?
If you're experiencing impotence as a side effect of Duodart and considering Viagra, it's vital to consult your healthcare provider first. Combining Duodart and Viagra should only be done under the strict supervision and guidance of a qualified healthcare professional. Both Duodart and Viagra have specific mechanisms of action and potential side effects, and their interaction can have consequences for your health.
According to Drugs.com, there is no interaction between Avodart (dutasteride) and Viagra [5]. However, Viagra interacts moderately with tamsulosin. Viagra can lower blood pressure, and tamsulosin also affects blood pressure. Taking these meds together may lead to a significant drop in blood pressure, potentially causing dizziness, headache, fainting, lightheadedness, flushing, and nasal congestion [6]. This is especially important if you have a history of low blood pressure.
Considerably, blood pressure should be measured oftentimes when using these two meds.
Your overall health, medical history, and specific condition should be considered when determining whether it is safe to take both meds. Certain medical conditions or allergies may contraindicate the use of either Duodart or Viagra. If your healthcare provider determines that taking both meds is necessary, they may recommend adjusting the dosages or prescribing a different form of treatment to mitigate potential risks. If prescribed, you should linger for at least 2 hours between taking the two meds.
Don't self-medicate or take these meds together without consulting a physician. They will be able to provide personalized guidance based on your unique medical situation and ensure your safety while addressing your health concerns.
Possible Side Effects of Mixing
Different medications, such as Duodart, can sometimes come with unwanted side effects that affect a person's sexual health. These side effects may include issues like ED, impaired ejaculation, reduced libido, and gynecomastia, which can be concerning for individuals [7].
Now, you might wonder whether Viagra, a well-known treatment for impotence, can be used alongside Duodart to counteract these negative effects. It's a valid question, but the answer requires careful consideration and medical advice.
Before you even think about combining Duodart and Viagra, it's crucial to consult your healthcare provider. The reason is that using these two meds together can potentially lead to a range of side effects that you should be aware of [7][8]. If you notice any unusual or severe side effects, seek medical attention promptly.
Some of these shared side effects include a drop in blood pressure, feelings of dizziness and nausea, headaches, a risk of fainting, and nasal congestion. These symptoms are common to both Duodart and Viagra, but they may not manifest when the medications are taken individually. It's essential to keep your doctor informed if any of these side effects persist for more than a few days or become severely bothersome.
When combining both meds, exercise caution before hopping behind the wheel or operating any heavy machinery. Give yourself time to understand how this combination affects you. Take care when rising from a seated or lying position to prevent dizziness or lightheadedness. Monitoring your blood pressure is crucial, so make sure it remains steady while on these meds.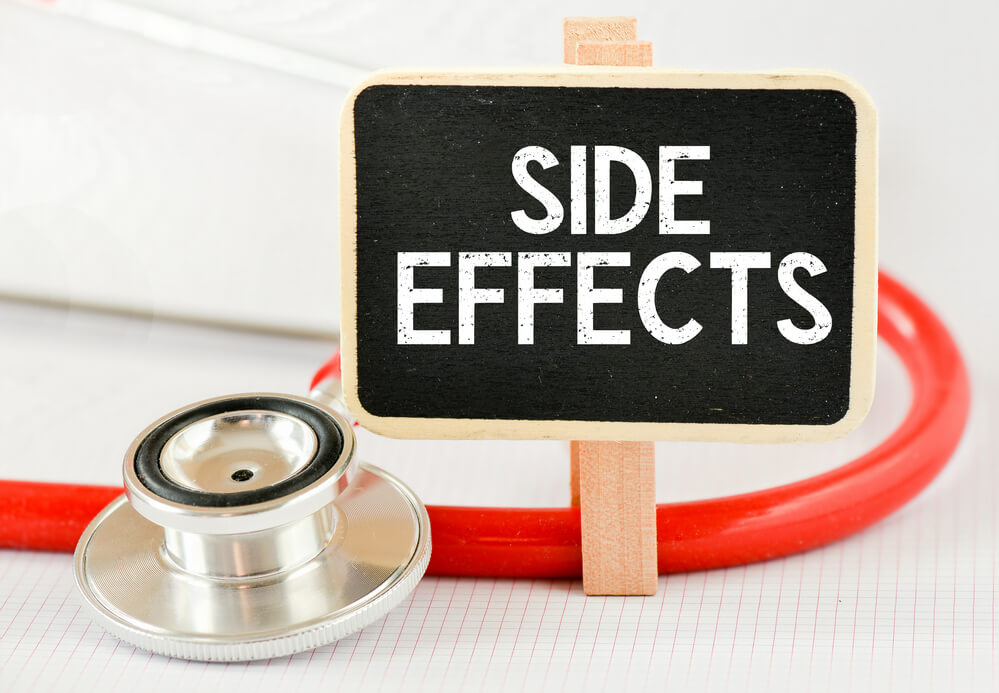 Should you decide to add a second medication to your regimen, be aware that a dosage adjustment may be necessary. It's always best to consult your healthcare provider in such cases.
Since both meds can interact with various meds, including vitamins and herbal supplements, it's imperative to inform your doctor about all the substances you're taking concurrently.
It's worth noting that some medical professionals advise avoiding ED drugs like Viagra, Levitra, Stendra, and Cialis, plus various related generic brands when taking dutasteride and tamsulosin. Always consult your healthcare provider for personalized guidance on your medication choices. Your doctor can assess your specific health condition and provide guidance on the potential risks and benefits of using them together. They may recommend adjusting dosages, closely monitoring your health, or exploring alternative treatments if necessary.
Withdrawal Period
Viagra typically does not have withdrawal symptoms because it is taken on an as-needed basis. Unlike medications that need to be gradually tapered down when discontinued, Viagra is designed to be taken only when required for its intended purpose, which is to address erectile dysfunction. This means there is generally no need for a withdrawal process or concern about withdrawal symptoms when using Viagra as directed by a healthcare professional.
When withdrawing from the combination of Viagra and Duodart, it's essential to seek guidance from your healthcare provider. Typically, this process involves a gradual reduction in medication dosages to prevent abrupt changes and is closely monitored by medical professionals to identify and manage potential side effects or adverse reactions. Always prioritize consulting with your healthcare provider before making any changes to your medication regimen.
Interaction of Viagra Plus Duodart with Alcohol & Food
When considering the interaction of Viagra and Duodart with alcohol and food, it's important to be cautious and seek medical advice. Moderation is key when consuming alcohol with Viagra, as excessive drinking can reduce its effectiveness and increase the risk of side effects. Duodart should generally not be taken with alcohol to avoid potential complications.
Both meds can be taken with or without food, although high-fat meals may delay the onset of Viagra's effects. Be mindful of your grapefruit intake. Grapefruit, in large quantities or as grapefruit juice, can impact how sildenafil functions in your body. It has the potential to increase sildenafil levels and slow down the med's effectiveness.
Food may affect the intestinal absorption of Duodart. You should take Duodart approx. one-half hour following the same meal each day to ensure steady absorption and blood levels of the drug.
What Are the Best Places to Buy These Drugs OTC?
Finding affordable meds like Duodart and Viagra at local pharmacies can often be challenging due to high prices and the requirement for a prescription. Many individuals have turned to online pharmacies for a more convenient and cost-effective solution. However, it's crucial to exercise caution when shopping online to avoid counterfeit pills and scams.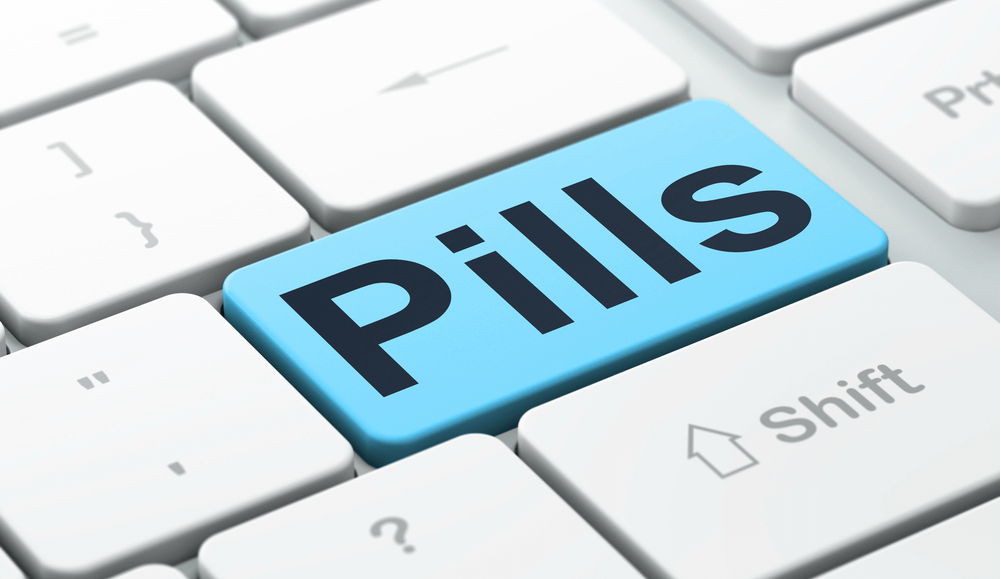 Here, we introduce a few trusted online pharmacies that you can rely on for your medication needs:
ViaBestBuys.com
If you're seeking a reputable online pharmacy for generic Viagra and a wide range of other ED drugs at an affordable price, ViaBestBuys (VBB) is a trustworthy option. With over a million satisfied customers and thousands of positive reviews powered by Yotpo, this pharmacy's credibility speaks for itself.
VBB offers worldwide shipping via Express Mail Service (EMS), excluding a few countries with strict import regulations, like Canada. Additionally, they provide Registered Airmail, a more economical shipping option suitable for bulk orders. Typically, EMS shipments take 7–12 business days to the US, Europe, Australia, New Zealand, and the UK, while Airmail deliveries take 10–18 working days. For other regions, delivery times may vary from 14 to 30 days. Notably, VBB expedites the shipping process, dispatching packages within 2 hours after payment confirmation and issuing tracking numbers within 24–72 hours.
To ensure customer satisfaction, VBB takes full responsibility for the delivery process, offering refunds or reshipments free of charge if packages do not reach their destination. Moreover, the pharmacy provides enticing discounts and deals, including 30 free trial samples of generic Viagra, Cialis, or Levitra for those who wish to test the products before purchasing. Returning customers receive 10 extra soft pills, and leaving a review earns buyers an additional 20 extra tabs. Payment methods are flexible, with options such as credit cards, Zelle, PayPal, and Bitcoins, with the latter offering a 25% discount.
CialisBit.com
If seeking premium-quality meds at the lowest possible prices, CialisBit is an excellent choice. Like VBB, it offers a wide range of ED meds but does not sell Duodart.
CialisBit provides two primary shipping methods: Airmail and EMS. While Airmail deliveries to the US, Europe, Australia, New Zealand, and the UK may take 10–18 business days, EMS shipments typically arrive within 7–12 days.
Although CialisBit doesn't serve countries with strict customs laws like the United Arab Emirates, Mexico, South Africa, Pakistan, Canada, Israel, Brazil, Indonesia, Ireland, Saudi Arabia, and Taiwan, it may still deliver to these regions using parcel forwarding services such as Skypax.
Customers can enjoy substantial savings when shopping with CialisBit, which offers discounts such as 10 Viagra or Cialis soft tabs for returning shoppers, free samples, and a special 25% discount for those who pay with Bitcoin. Importantly, the pharmacy provides free shipping for orders totaling $130 or more via Registered Airmail and for orders exceeding $180 via EMS. Further, the vendor offers refunds or reshipment in case of missing parcels.
HighStreetPharma.com
HighStreetPharma (HSP) is another e-pharmacy worth considering. While it primarily sells brand-name ED meds like Cialis, Levitra & Viagra, it also offers various generic versions. The vendor doesn't also offer Duodart. Like VBB & CialisBit, HSP sources all its products directly from reputable manufacturers with FDA approval and World Health Organization Good Manufacturing Practice (WHO GMP) certification, ensuring the quality of its products is 100% guaranteed.
HSP provides two shipping methods: Airmail and EMS, with worldwide delivery, including Canada. Parcels sent using EMS via Indiapost/Swiss post/DHL just take 7–14 days. Besides, Express shipping with tracking from India takes 7-12 working days for orders to the USA, the UK, Europe, and Australia, and 14–30 days for the rest of the world. EMS costs $25, but it's free on orders costing over $150.
Although HSP offers a customer-centered refund policy that covers missing or damaged packages, it doesn't apply to customers from countries with strict customs regulations. HSP accepts Amazon/Walmart gift cards. As advised by the vendor, you will find the details to purchase the gift card with PayPal/VISA/MasterCard/JCB once you hit the "place order" button & complete your purchase.
Conclusion
In this comprehensive guide, we've explored the dynamics of mixing two medications that play pivotal roles in addressing distinct health concerns: Viagra and Duodart. We've delved into the essential aspects of this interaction, including safety considerations, potential side effects, and trusted online sources for purchasing these medications. Mixing Duodart and Viagra requires careful consideration and guidance from a healthcare professional, as it comes with side effects and interaction. When it comes to finding ED drugs online, platforms like ViaBestBuys, CialisBit, and HighStreetPharma offer reliable options. These online pharmacies prioritize the quality and accessibility of meds, providing you with convenient solutions for your health and wellness needs. Be sure to explore their offerings and consult with a healthcare professional if you have any specific questions or concerns.
References:
Duodart. Published: November 2022. News-medical.net.
Viagra's famously surprising origin story is actually a pretty common way to find new drugs. By Katherine Ellen Foley. Published: September 10, 2017. Qz.com.
Sildenafil. Retrieved: September 11, 2023. Wikipedia.org.
How Viagra Works. By Marshall Brain & Katie Lambert. Retrieved: September 11, 2023. Science.howstuffworks.com.
Drug Interactions between Avodart and Viagra. Retrieved: September 11, 2023. Drugs.com.
Drug Interactions Report. Retrieved: September 11, 2023. Drugs.com.
Dutasteride. By Cerner Multum. Medically reviewed by Drugs.com on November 10, 2022. Drugs.com.
Viagra side effects: What you should know. By Sarah Lewis. Medically reviewed by Alex Brewer on January 28, 2023. Retrieved: September 11, 2023. Medicalnewstoday.com.