Erectile dysfunction (ED), also known as male impotence, is no longer an unfamiliar health issue, and this can be due to either physical or psychological factors. Thankfully, Viagra and Nizagara, among other medications, are available and potent enough to treat this condition. Although both drugs are equally effective, they may have varying characteristics.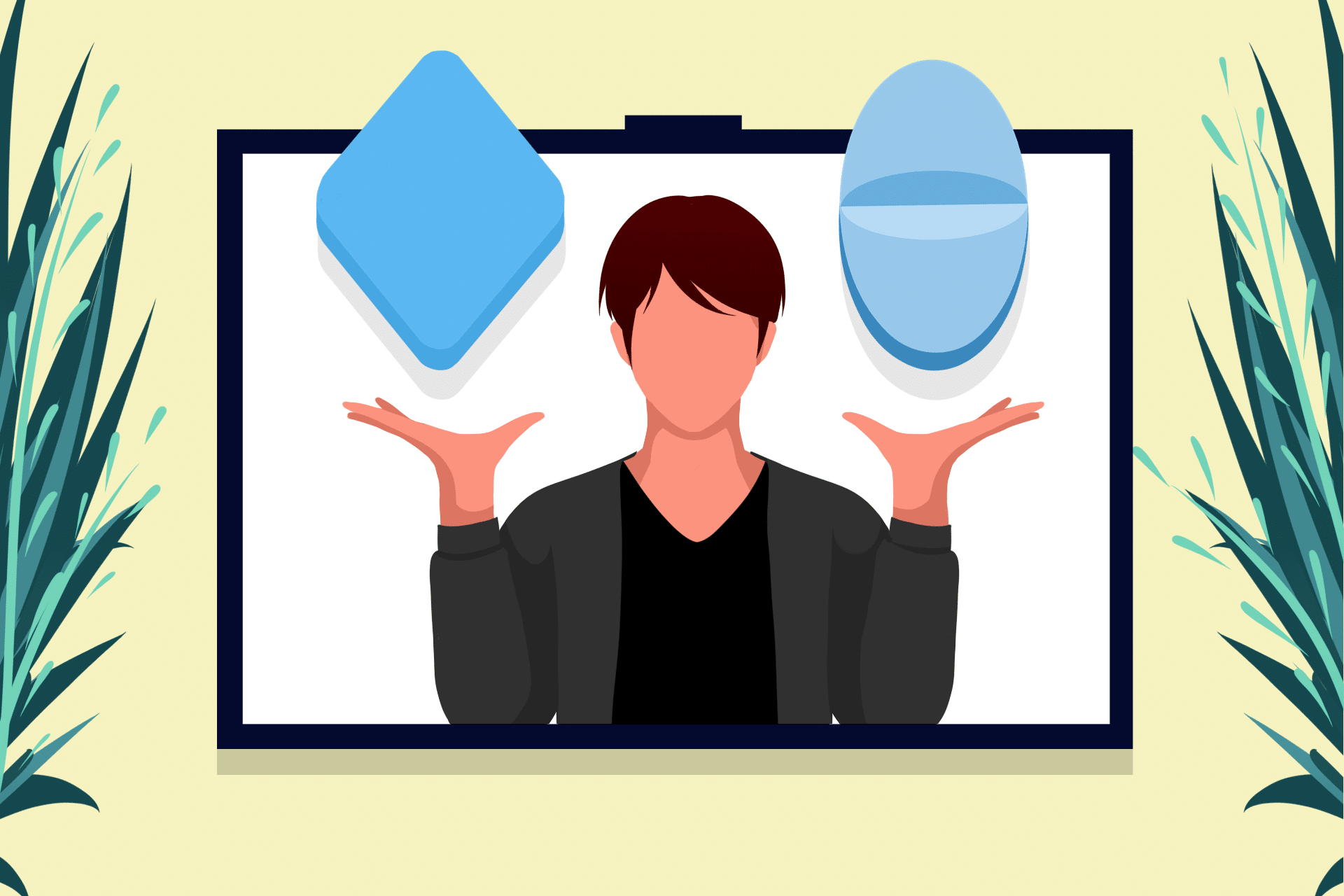 So, Nizagara vs. Viagra: Let's see if they are the same, and if not, which one works better.
What Is Nizagara?
Nizagara is a highly effective medication used to treat severe cases of impotence in men. It contains sildenafil citrate, the same active ingredient in Viagra, and it works just like it. But sildenafil is not the only ingredient in this drug; it also contains some vitamins that increase its benefits. L-arginine, folic acid, redberry, adermin, and vitamin B12 are some of the inactive components that add to its effectiveness.
Nizagara is a generic version of Viagra and is just as good as it is. It is safe, highly effective, and well-tolerated but available at a much more affordable price.
What Is Viagra?
Viagra is a very popular medication that is super active in treating varying degrees of erectile dysfunction. It was the first orally administered drug that the Food and Drug Administration (FDA) approved for treating ED.
As surprising as it sounds, the drug was born out of a mistake. It was accidentally discovered by Pfizer scientists in 1989 while they were testing a chest pain medication. On March 27, 1998, the FDA approved it for medical use. Today, it is one of the most commonly prescribed ED remedies in the world [1].
Commonly known as the "little blue pill" because of its physical characteristics, Viagra has helped millions of men worldwide achieve better erections. It is safe, well-tolerated, and poses a minimal risk of side effects [2].
Compare These Drugs
There are very few differences between Viagra and Nizagara, as they contain the same active ingredient. Understanding the similarity and difference between them can help you decide which one best suits your lifestyle.
| | | |
| --- | --- | --- |
| Brand Name | Viagra | Nizagara |
| What's the active ingredient in this drug? | sildenafil | sildenafil |
| What form does it come in? | oral tablet | oral tablet |
| What strengths does it come in? | 25 mg, 50 mg, 100 mg | 25 mg, 50 mg, 75 mg, 100 mg, and 150 mg |
| What's the typical dosage? | 50 mg | 50 mg |
| When should you take it? | 30 to 60 minutes before sex | 15 minutes before sex |
| What is the drug's duration of action? | 4 hours | 5–6 hours |
| How do I store it? | At room temperature, between 200C to 250C (680F to 770F), away from moisture, heat, light, and out of the reach of children | At room temperature, between 200C to 250C (680F to 770F), away from moisture, heat, light, and out of the reach of children |
It's clear that there exist some differences between these drugs, such as their onset of effects and duration of action. One might wonder why this is so, mainly because they consist of the same active ingredient.
Well, the main reason for this is that they contain different inactive ingredients. Although generic drug manufacturers are required by law to use the same active ingredients as in the brand name meds they're made after, there are no restrictions stopping them from adding or swapping the inactive ingredients. Pharmaceutical companies typically alter the inactive components in their generic products to achieve different characteristics such as taste.
Another striking difference between Viagra versus Nizagara is cost. While the price range of a single tablet of brand name Viagra is $60–$70, that of Nizagara is $0.99 to $3.99 [3]. The considerable difference in cost is actually the main reason why some men are skeptical about it. However, the price difference doesn't make Nizagara any less effective. Generally, generic drugs are as effective as their brand-name counterparts. The FDA requires generic drug manufacturers to prove that their products offer the same benefits and side effects as brand-name medicines [4].
The manufacturers of brand-name drugs spend millions researching, developing, testing, manufacturing, and marketing. Generic medications are usually cheaper because the makers do not spend as much. The reduced cost of production is what goes as a subsidy for consumers.
Best Places to Buy Viagra and Nizagara 100 mg
Viagra and Nizagara are available in both walk-in pharmacies and online drugstores. However, most men prefer sourcing ED products online because of the benefits associated with doing so. E-drugstores offer better prices, bonuses, discounts, and, most interestingly, they do not request prescriptions.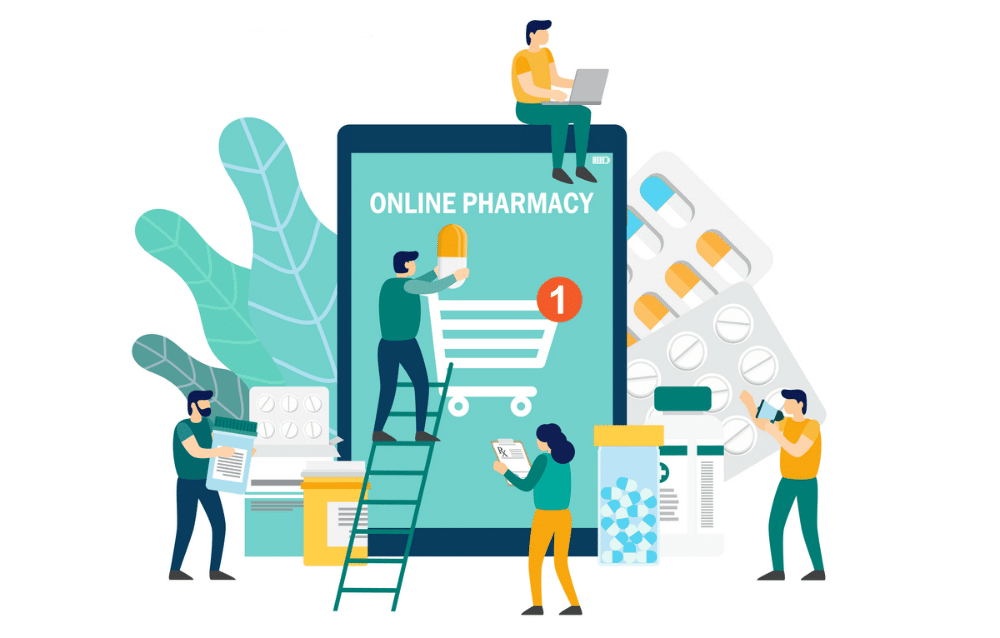 But there's one big problem with this method. There are usually very little to no regulations for online drugstores, meaning that they can sell what they like to anyone undetected. Consequently, it's advisable to patronize only tested and trusted vendors.
Here are some of the pharmacies we trust for high-quality products.
ViaBestBuys.com
ViaBestBuys (VBB) is a popular online pharmacy known for exceptional customer service, fast delivery, and high-quality medications. It has been in business for several years now and has amassed several thousand reviews, most of which are positive.
The vendor's service is open to all the countries of the world except those with strict customs laws. At the time of writing this guide, it doesn't ship to the following countries:
Brazil;
Taiwan;
Mexico;
Ireland;
Pakistan;
Indonesia;
Saudi Arabia;
Israel;
South Africa;
the United Arab Emirates.
The vendor fulfills orders with these shipping options: Express Mail Service (EMS) and Registered Airmail. While customers can use either of these methods, their cost varies. The faster option, EMS, costs $39, but parcels sent via it can be tracked. On the other hand, although Registered Airmail is relatively slower, it is ideal for shipping bulk orders. It costs $29 but has no option for tracking.
It is worth noting that parcels' arrival times may differ based on the shipping method chosen and country shipped to. Deliveries to the US, the UK, the EU, Australia, and Canada via EMS typically arrive within 7 to 12 business days, while those shipped via Registered Airmail may take between 10 and 18 business days. For orders from countries other than those mentioned above, the shipping time is 14 to 30 days for both EMS and Airmail.
Usually, VBB sells Viagra, Nizagara 100 mg, and a wide range of other ED drugs at one of the lowest prices. This is not to mention the bonuses, discounts, and incentives it offers just to keep its customers happy. For starters, it provides free EMS or Airmail shipping on orders worth $180 or $80, respectively. The bonuses and discounts currently available include a 25% discount for customers who pay via Bitcoin, 10 extra soft pills for returning customers, and 20 additional ED tabs for those who leave an honest review after buying.
CialisBit.com
CialisBit.com is yet another reputable online pharmacy that provides high-quality products for cheap. It ships products worldwide via EMS and Registered Airmail except to countries with strict customs laws.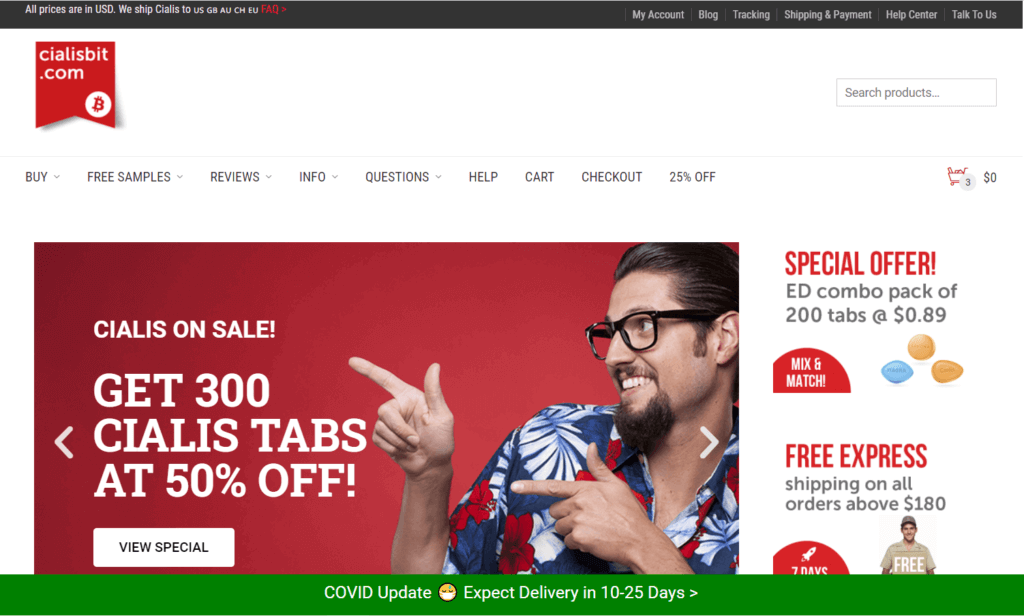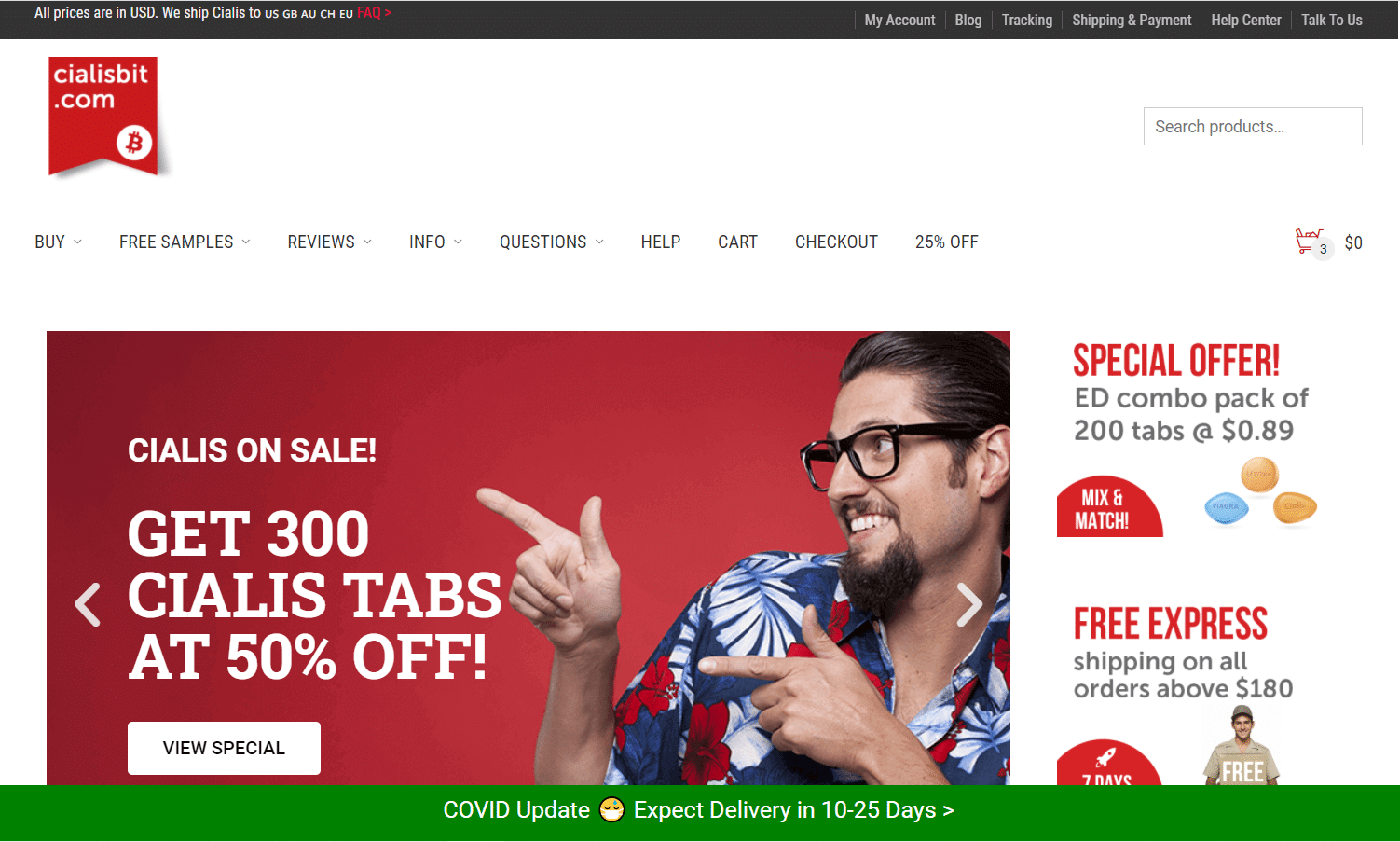 EMS deliveries to the USA, the UK, the EU, Australia, & New Zealand typically arrive within 7 to 12 business days. On the other hand, those shipped with Registered Airmail usually arrive within 10 to 18 business days. Parcels to other destinations typically take 14 to 30 workdays, irrespective of the shipping option chosen.
Shopping on CialisBit.com is as easy as pie, thanks to the Amazon-like functionality of the site. The vendor accepts multiple payment methods, including Bitcoin, American Express, and MasterCard, which makes things even easier. All customers need to do is add the products they intend to buy to the cart, proceed to the checkout page, and make payment.
Furthermore, the pharmacy offers mouth-watering discounts, including 25% off it gifts buyers who pay with Bitcoin. It also gives 10 extra Viagra or Cialis soft tabs to returning customers, plus several coupon codes.
HighStreetPharma.com
HighStreetPharma (HSP) is a trustworthy drugstore, but it operates differently from CialisBit.com and ViaBestBuys.com. Rather than directly selling Viagra and other ED drugs, the vendor connects customers with trusted suppliers offering the most affordable price.
HSP deals directly with reputable manufacturers who formulate drugs in Good Manufacturing Practice (GMP) certified plants. Thus, customers can rest assured they'll get only premium-quality medicines that are safe and effective. It is worth noting that although HSP's product prices are slightly on the high side compared to the other online pharmacies on our list, it offers bonuses and discounts that pull the prices down a bit.
HighStreetPharma accepts orders from all parts of the world, and it uses EMS and Airmail for shipping. The delivery window for EMS is 7 to 14 days, while that for Airmail can be anywhere from 14 to 21 days. The pharmacy provides free Registered Airmail shipping on orders worth $150 and above. It also offers 20% off for returning customers and 2 bonus pills with every ED order.
Dosage Guideline for These Pills
When trying out an ED drug for the first time, it is advisable to start with lower doses to avoid side effects; it's called dipping a toe in the water. However, most drugs have a starting dose recommended for first-time users.
The initial daily recommended dosage for both Viagra and Nizagara is 50 mg. Both drugs are to be swallowed whole with a glass of water. They can be taken with or without meals; however, it is advisable to avoid fatty meals if you decide to eat before taking the ED medicine. Meals rich in fat are known to slow down the absorption of drugs, which can delay their onset of action.
It is worth noting that the effects of the drugs can vary from one person to another. In effect, the 50 mg starting dose might be effective for one individual but ineffective for another. In cases like this, the user can either step up to a higher dose or step down to a lower one based on tolerability and effectiveness, respectively.
However, it is advisable to consult a doctor before starting treatment with either drug or changing dosage.
Nizagara and Viagra: Side Effects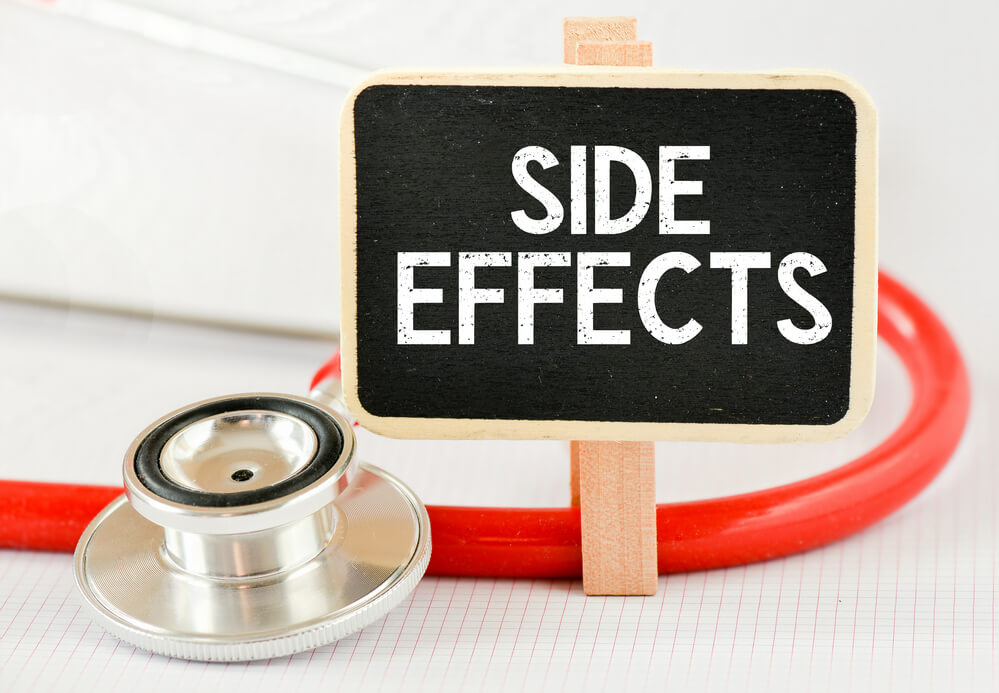 All drugs have side effects, and Viagra and Nizagara are no exception. Both medicines have similar adverse reactions since they contain the same active ingredient. Interestingly, the common symptoms are often mild and disappear without medical attention. They include [5]:
headache;
indigestion;
stuffy nose;
flushing;
dizziness;
nausea.
It is worth noting the more severe side effects can also occur when using either drug. While their occurrence is rare, they could sometimes be life-threatening. They are as follows:
sudden vision loss;
ringing in one or both ears;
swelling in the hands;
sudden hearing loss,
shortness of breath;
priapism.
Seek urgent medical attention should you experience any of the above side effects.
What Drugs Interact with Viagra and Nizagara?
Just as Nizagara and Viagra have similar adverse effects, they also interact with the same drugs. Drug interaction usually occurs when two or more meds that don't go well together are taken concomitantly. Such combinations could either render one or more of the drugs in the mix ineffective or increase the risk of adverse reactions.
The following medications do not go well with sildenafil [6]:
some pulmonary hypertension drugs such as riociguat;
protease inhibitors (a class of HIV drugs);
antifungal medicines, such as ketoconazole;
some blood pressure drugs, such as calcium channel blockers;
nitrates, such as nitroglycerin;
antibacterial drugs, such as clarithromycin.
In addition to these, it is imperative to avoid excessive alcohol intake while on ED pills. Consult a doctor and inform them of your medical history before starting treatment with any medication.
Conclusion
Viagra and Nizagara are both very effective for treating impotence in men. They contain the same active ingredient and so have the same mechanism of action and provide equal benefits and side effects.
If you're a little confused about which product to use, taking their onset of action, duration of effects, and cost into consideration may help you. For instance, while the effects of Viagra take 30 to 60 minutes to kick in, those of Nizagara take only about 15 minutes. Furthermore, Nizagara's effects last about 1 to 2 hours longer than those of Viagra. It also costs much less.
Considering these features, Nizagara might be an excellent option for you if you have a small budget, have an active sex life, and often have spontaneous sex. This is because its effects kick in faster and last longer. However, if you prefer a more popular medication that's been tested for a more extended period and don't mind breaking the bank, then Viagra is definitely your option.
Whichever product you choose, be sure to get it from a reputable and trustworthy vendor to avoid counterfeits. You can check out the stores we've listed earlier in this article or any other that comes highly recommended.
References:
Sildenafil. Retrieved: March 26, 2021. Wikipedia.org.
Viagra, The 'Little Blue Pill,' Turns 20. By Shelley Emling. Retrieved: March 26, 2021. Aarp.org.
Generic Viagra: A Guide to Cheap Viagra Online. By Singlecare Team. Medically reviewed by Michele Sionas, R.PH. Retrieved: March 26, 2021. Singlecare.com.
What's the Difference Between a Brand-Name Drug and a Generic Drug? By Dan Wagener, MA. Retrieved: March 25, 2021. Goodrx.com.
Sildenafil (Viagra): Medicine for Erection Problems. Retrieved: March 25, 2021. Nhs.uk.
Viagra (Sildenafil Citrate): Uses, Dosage, Side Effects, and Interactions. Retrieved: March 25, 2021. Rxlist.com.