Viagra is one of the most popular drugs used to treat erectile dysfunction (ED). Because of how effective it is, many men depend on it to improve their erections, restore their egos, and help satisfy their partners sexually.
Unfortunately, like every other drug, it has side effects, one of the commonest being nasal congestion. But this doesn't deter most of its users; instead, they resort to taking medications such as decongestants to tackle the congestion and other meds for other reactions. While this is a sound idea, it is essential to consider safety. Let's find out if the mixture is safe.
What Exactly Is Decongestant?
Decongestants are medications used to treat symptoms of a blocked, stuffy, or runny nose. They're often helpful for congestion caused by a common cold, allergies, and the effects of certain medicines such as Viagra.
Decongestants work by causing the blood vessels in the nasal passages to shrink, which in turn prevents fluid from seeping out from the blood vessels into the tissues that line the nasal passages. They're usually available in different forms, including tablets, capsules, and syrup, as well as nasal sprays, nose drops, and inhalers. Decongestants available as nose drops and nasal sprays are not to be used for more than 7 days in a row. Furthermore, they're unsuitable for children under 6 years old [1].
Nasal decongestants are generally safe, but they are not without side effects. Users, especially those taking them for the first time, are typically more likely to experience negative symptoms [2]. Because they can get absorbed into the bloodstream, these meds should be used by pregnant women or breastfeeding mothers only when absolutely necessary and if their benefits outweigh the risks.
What Is Viagra Medicine?
Viagra, popularly known as the "little blue pill," is a potent drug for treating impotence in men. It belongs to a class of medications referred to as phosphodiesterase type 5 (PDE5) inhibitors. It works by increasing blood flow to the penis upon stimulation, making it firm enough for penetration during sex [3].
The drug was the first-ever ED med taken by mouth, approved by the Food and Drug Administration (FDA). Because the medication is so effective, with about 70% of men responding well to it, it is usually the first-line treatment prescribed by doctors [4].
I'd had a few unsatisfactory sexual experiences of late. "I'm too young/healthy/horny to be having these problems", I'd said to myself. So after browsing the internet for options. "Free Trial Pack" sounded like just the thing for me. So I placed my order. Normally on first sexual encounters, I am nervous and tentative (knowing I have had troubles before), but this time I was locked and loaded and extra confident. The pill worked. I was as "ready" as I'd ever been. We had a great time, a few times, and she calls me up for a visit quite often now. If you think you could use a boost, give it a try. No complaints here.
Not sure what to get? ViaBestBuys offers a free sample pack of three of the most popular ED pills (Viagra, Cialis, and Levitra) delivered by mail straight to your doorstep. Free pills are already in your cart >>>
I have been ordering from ViaBestBuys for almost four years. Their products are virtually indistinguishable from brand-name products. In other words, their products really work. In addition to excellent products, their service department is helpful and understanding. They always respond even to the same question with patience. COVID-19 slowed the delivery time but all parties had little control over that. If you need your Viagra or Cialis supply fast, there is a US domestic shipping option available which takes 3-4 days on average. More TrustPilot reviews
Viagra is a vasodilator, meaning that it promotes the widening of blood vessels close to the surface of the skin. While this is utterly awesome in certain cases, such as in treating erectile dysfunction, it could sometimes be problematic. For example, it is its dilation of blood vessels that causes the engorgement of nasal membranes and nasal congestion ultimately [5][6].
The "little blue pill" is safe, but it may also cause certain side effects, especially in people who use it for the first time. The most common adverse reactions associated with the drug are usually mild and tend to go away independently without treatment. While it's a fact that most of these side effects typically disappear on their own, sometimes it becomes necessary to take meds for the individual symptoms.
Viagra may not be safe for people with certain underlying health conditions such as cardiovascular diseases, hypertension, hearing problems, pulmonary diseases, etc. It is only approved for use in individuals who are 18 years of age or older [7].
Can You Take Decongestant and Viagra Together?
There are hundreds of medications that interact negatively with Viagra, and it's essential to refrain from using them, as they can cause or worsen side effects. Luckily, when it comes to relieving nasal congestion, there happen to be a few decongestants that don't interact with Viagra negatively. Afrin and Sudafed happen to be some of them. After running a check on Drugs.com, no interactions were found between either Afrin or Sudafed and Viagra. However, it's worth noting that this doesn't completely rule out the possibility of side effects.
Consult your doctor for detailed info on combining these drugs and more possible treatment options for Viagra-influenced congestion.
So, in a nutshell, you can take certain decongestants alongside Viagra. However, the need to confirm the possibility of an interaction between any decongestant you decide to take cannot be overemphasized.
Possible Side Effects of Mixing
All drugs have side effects, and Viagra and all the decongestants that exist are no exception. However, because their benefits outweigh their risks, they're all approved for use and considered safe.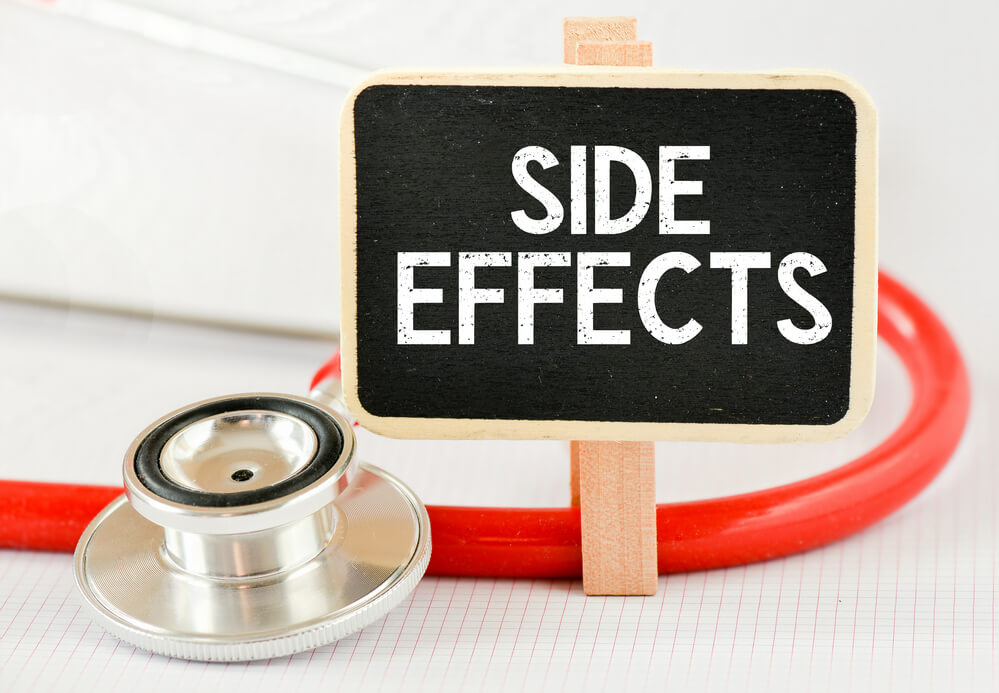 Although there seems to be no interaction between these drugs (based on Drugs.com interaction checker), Viagra and decongestants each have adverse reactions associated with them. When used together, it is possible to experience any of these side effects.
Viagra common side effects include [8]:
nausea;
drowsiness;
upset stomach;
diarrhea;
nasal congestion.
On the other hand, the side effects associated with most decongestants include [9]:
dryness of the nose;
headache;
agitation or feeling of restlessness;
irritation of the lining of nose;
rash;
dizziness.
To reduce the risk of experiencing these adverse reactions, it is advisable to adhere strictly to prescription. Consult a doctor before starting treatment with either of these drugs or combing them.
Withdrawal Period
Generally, Viagra isn't addictive. However, it is considered to be capable of causing psychological dependence. With a reputation as one of the best drugs for treating ED and improving sexual relationships, it becomes easy for some people to bank entirely on the drug while performing sexually. This way, when they can't lay hands on the drug during sex, fear and anxiety set in, making it even more difficult for them to achieve an erection. Luckily, this rarely happens and is linked mostly to overdose and incorrect use of the drug [10].
On the other hand, with decongestants, there's a thing called "nasal spray addiction." However, it isn't really an addiction but more of dependence or rebound. When people start using the decongestant, it shrinks blood vessels and the tissues in the nose too, getting rid of the congestion. But after a while, the medicine wears off, and both the nasal tissues and blood vessels return to their normal size, causing people to use the decongestant again.
It goes on and on, sometimes, leaving the nasal tissues larger than they were previously. This leads to a little more frequent use of the medication, which is often perceived as an addiction. However, it is worth noting that long-term use of decongestants can damage the nasal tissues, resulting in an infection and much pain [11].
Well, there's no actual withdrawal period for both medications. It is advisable to use them as prescribed by a doctor to avoid psychological dependence or rebound in the case of Viagra and decongestants, respectively.
Interaction of Viagra Plus Decongestant with Alcohol & Food
Earlier, we discussed the possibility of an interaction, but it was only between Viagra and decongestants. What we failed to mention is that sometimes drugs can interact with certain foods or alcohol in what is called "drug-food interaction."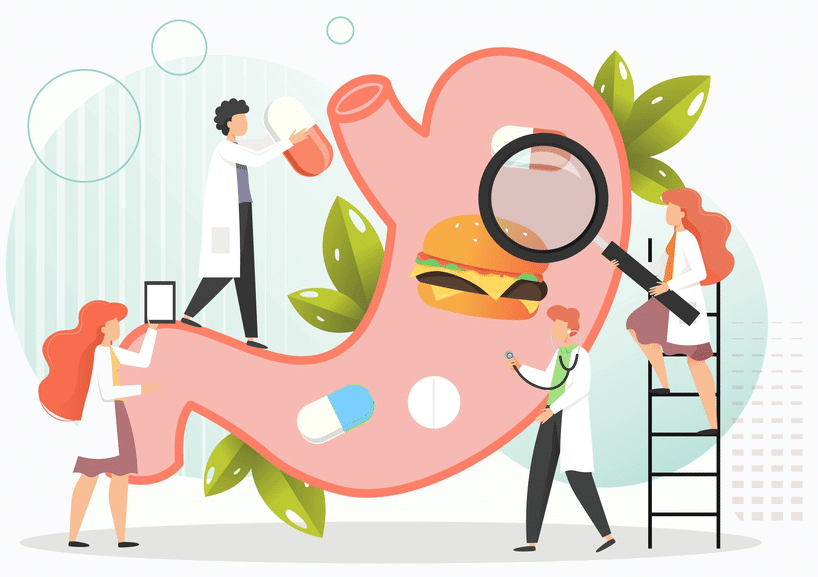 In this regard, Viagra interacts negatively with grapefruits and grapefruit juice. They have been found to delay the drug's onset of effects or increase its concentration in the body. If you were already taking grapefruit or its extracts before starting treatment with Viagra, do not increase or decrease the amount you consume without first consulting a doctor [12].
On the other hand, decongestants can be taken with or without food. However, it is important to adhere strictly to their direction for use. Both meds should not be mixed with alcohol, as it may increase the risk of adverse reactions or reduce effectiveness of one or both drugs.
What Are the Best Places to Buy These Drugs OTC?
Generally, some decongestants are over-the-counter (OTC) meds, meaning that they can be purchased at walk-in pharmacies without a prescription (Rx). The case is different for Viagra, as it's strictly a prescription-only medication and therefore difficult to buy without first getting a valid Rx from a doctor.
However, there are some online pharmacies that sell the pills over the counter, and it's possible to get them easily. However, it is advisable to patronize only a trustworthy and reliable pharmacy if you decide to follow this route. This way, you're guaranteed to get genuine products.
Here are some of the best places to buy these drugs from without an Rx.
ViaBestBuys.com
A 100% money-back guarantee, free samples, and excellent customer service – these are some of the most critical factors to look out for when searching for a reliable e-drugstore. ViaBestBuys (VBB) checks all 3 boxes. The quality of its products is guaranteed, as it sources them directly from reputable manufacturers. To prove this to customers, it offers free ED med samples, including Viagra, making it possible to get the drug and test it before buying.
When it comes to customer satisfaction, the vendor performs no less, as it provides either a full refund or reships a product free of charge if a parcel gets missing or damaged in transit. Its customer service is top-notch, responding to queries from customers asap and following up till it resolves the issue. It's no wonder why the vendor packs hundreds of positive reviews on trustworthy review platforms like Yotpo and Trustpilot.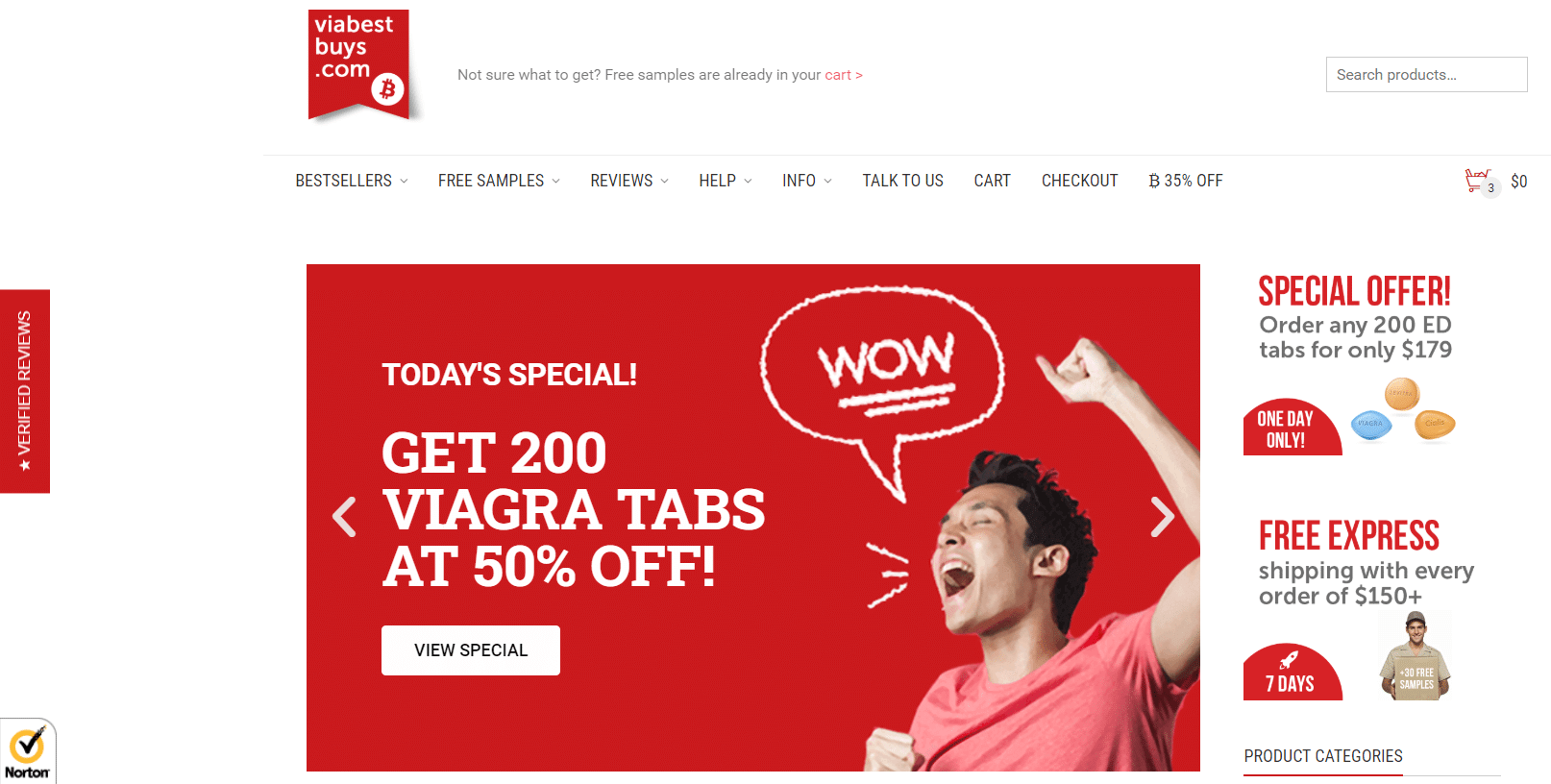 It fulfills deliveries worldwide except to a few countries such as Mexico, Brazil, Pakistan, Indonesia, Taiwan, and others with stringent customs laws. ViaBestBuys uses two main shipping methods: Registered Airmail and Express Mail Service (EMS).
For orders placed from either the US, the UK, Canada, Australia, or the EU dispatched with either EMS or Registered Airmail, VBB delivers within 7–12 business days or 10–18 business days, respectively. On the other hand, orders placed from other parts of the world usually take 14–30 days to deliver. Shipping via EMS costs $39 but is free on orders over $180, while that through Airmail costs $29 but becomes free on purchases worth $80.
The vendor's accepted means of payment include American Express, MasterCard, and Bitcoin. It also accepts PayPal, but a 25% discount it offers on purchases only applies to Bitcoin payment.
Other benefits associated with buying from this vendor include getting to buy Viagra pills and their alternatives at cost-effective prices, enjoying mouth-watering discounts, and free shipping.
ViaBestBuy.com has been in business for a long time and can be trusted for quality pills at one of the best prices any day, any time. Unfortunately, it doesn't sell decongestants.
CialisBit.com
This is yet another reputable online pharmacy with a proven track record of providing unmatched customer experience and satisfaction. It has been in business for a few years now and has successfully amassed over 380,000 happy customers. The stream of positive reviews on its platform, Yotpo, and Trustpilot is proof of this.
CialisBit.com equally ships products to most parts of the world except to those with strict import laws. Countries it doesn't ship to include:
Brazil;
Israel;
Ireland;
Mexico;
Taiwan;
Pakistan;
Indonesia;
South Africa;
Saudi Arabia;
the United Arab Emirates.
However, people living within these countries may still place orders and receive them with the help of parcel forwarding services like Skypax or PR Strømstad AB. Several customers who've bought pills from the vendor via this means have reported a 100% delivery success.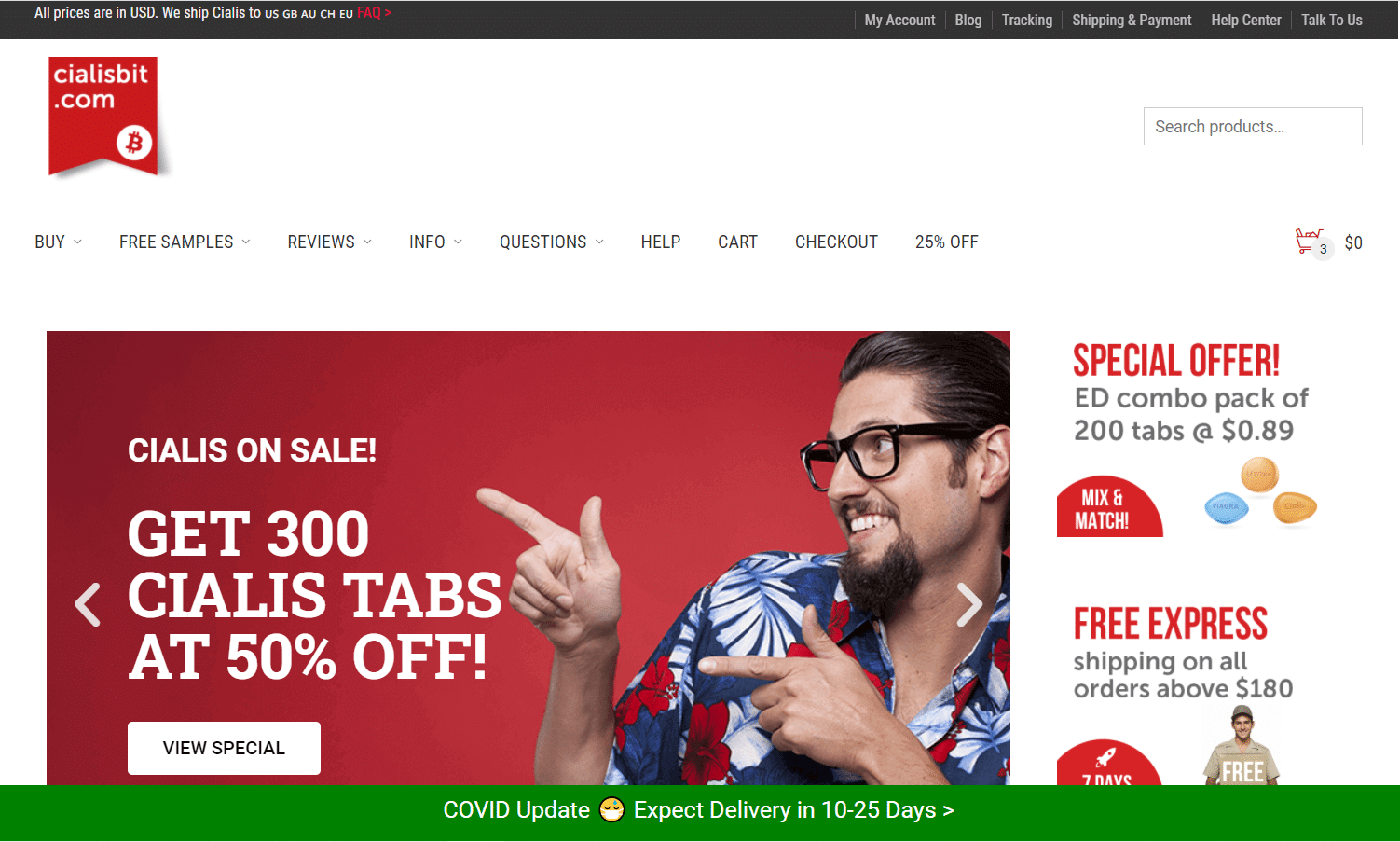 The vendor equally fulfills deliveries via Airmail and EMS. While EMS costs $49 and has a short delivery time of 7–12 business days for orders from the US, UK, Australia, the EU, and Canada, Airmail deliveries cost $39 but have a more extended delivery period of 10–18 business days. Its accepted methods of payment include MasterCard, AmEX, and Bitcoin. Making payment with Bitcoin on the platform attracts a 25% discount.
CialisBit.com offers excellent discounts, free samples, free shipping, one of the best prices, and a 100% money-back guarantee. For sure, it's a great place to buy Viagra, Cialis, Levitra, and alternative ED meds. However, it doesn't offer decongestants too.
HighStreetPharma.com
HighStreetPharma (HSP) is also a reputable e-drugstore that guarantees high-quality products at an affordable price. The vendor equally fulfills deliveries via EMS and Registered Airmail. Parcels sent via EMS typically take 7–14 days under normal circumstances, while those shipped via Airmail take 14–21 days. However, the vendor offers free shipping via Airmail on all orders over $150.
HSP provides excellent discounts and offers every now and then. For example, it offers 2 bonus tabs with every ED drug order and a 20% discount on subsequent purchases. Customers can rest assured they'll get their packages, as the vendor insures all orders. It offers a full refund or reships packages if they get missing or damaged.
HSP's accepted methods of payment include gift cards (can be bought with Visa and MasterCard) and cryptocurrencies. It also accepts PayPal payments. However, this method is limited to some selected countries. You may visit the website to find out if it is available in your country.
You can bank on this vendor for premium quality meds, as it deals in only FDA-approved products obtained directly from reputable manufacturers. It offers around-the-clock customer support service and responds relatively quickly to queries from customers.
Conclusion
It may be safe to mix Viagra with decongestants. Consequently, people experiencing nasal congestion resulting from Viagra may use certain decongestants for relief, as such a mixture isn't inherently dangerous in terms of immediate health risks. However, while using these meds together, it is important to pay attention to any unusual changes and make sure they don't affect you in any way.
If you plan on taking decongestant with Viagra, do so in moderation. Remember that it is inadvisable to use decongestants for more than 7 days in a row unless advised otherwise by a doctor. Do well to consult a physician for more information on these drugs and combining them. Report any persistent side effects or discomfort you experience as soon as possible.
References:
Decongestants | Types, Uses, and Side Effects. Written by Dr. Mary Harding. Medically reviewed by Dr. Jacqueline Payne. Retrieved: February 20, 2021. Patient.info.
List of Nasal Decongestants | Antihistamines and Side Effects. Written by Omudhome Ogbru, PharmD. Medically reviewed by Jay W. Marks, MD. Retrieved: February 20, 2021. Medicinenet.com.
Viagra: Side Effects, Dosage, Alternatives, and More. Written by Helen Marshall, BPharm, MRPharmS. Medically reviewed by Alex Brewer, PharmD, MBA. Retrieved: February 20, 2021. Medicalnewstoday.com.
What to Do If Viagra Won't Do. Retrieved: February 20, 2021. Health.harvard.edu.
Viagra (Sildenafil Citrate): Uses, Dosage, Side Effects, and Interactions. Retrieved: February 20, 2021. Rxlist.com.
There are 4 Basic Causes of Nasal Congestion. By Staten Island Advance. Retrieved: February 20, 2021. Silive.com.
Viagra Drug Interactions. Retrieved: February 20, 2021. Drugs.com.
Common and Rare Side Effects for Viagra Oral. Retrieved: February 20, 2021. Webmd.com.
Decongestants. Retrieved: February 20, 2021. Nhs.uk.
Is Viagra Dependency a Thing? Written by Forhims Editorial Team. Medically reviewed by Kristin Hall, FNP. Retrieved: February 21, 2021. Forhims.com.
Is Nasal Spray Addiction a Cause for Concern? Written by Jennifer Berry. Medically reviewed by Alana Biggers, M.D., MPH. Retrieved: February 21, 2021. Medicalnewstoday.com.
Drug Interactions Between Afrin and Viagra. Retrieved: February 21, 2021. Drugs.com.