Erectile dysfunction is a common condition that affects about 52 percent of men worldwide. Fortunately, managing it is no longer a problem, as there are safe and effective medications such as Viagra, Cialis, etc. However, because these options are quite expensive, people search for cheaper alternatives. Horny goat weed is one of the products men are looking to take in place of Viagra since it costs less, but is it a good alternative?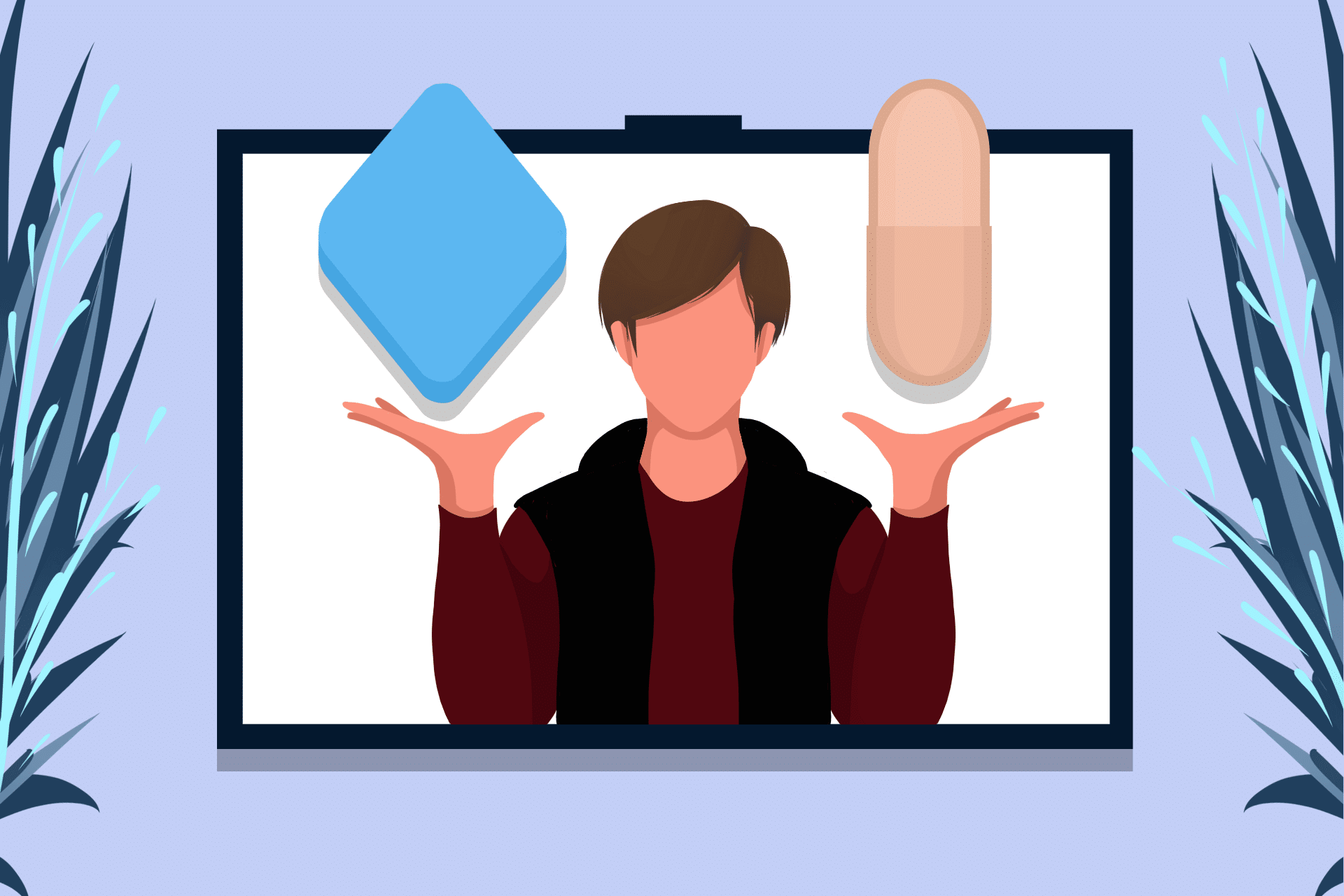 This guide answers that question. It also sheds light on a lot of other important details. Let's dive in.
What Is Horny Goat Weed?
Horny goat weed is a herbal supplement commonly marketed as a safe and effective treatment for erectile dysfunction (ED). It contains icariin as its active ingredient, a chemical compound extracted from a plant called Epimedium. The compound has been used for millennia by the Chinese to treat ED and improve exhaustion and discomfort.
Many people take horny goat weed, as well as other herbal supplements that contain icariin, because they see it as a more natural and thus lower-risk remedy for ED. They may not be far from the truth, as some studies suggest that its mechanism of action is similar to that of Viagra and other popular ED drugs. However, nothing is set in stone, as more clinical studies need to be carried out [1].
Horny goat weed is also believed to be effective in treating ailments such as osteoporosis, nerve pain, hay fever, and fatigue, but these are also yet to be proven in well-controlled studies [2]. At present, doctors do not recommend it to ED patients, as they classify it as an unproven treatment option.
What Is Viagra?
Viagra is an FDA-approved brand-name prescription medication used to treat symptoms of ED. Sildenafil is an active ingredient in the drug, and it belongs to a class of medications known as phosphodiesterase type 5 (PDE5) inhibitors. It works by increasing blood flow to the penis, allowing the user to attain and maintain an erection. However, it only works when a man is sexually aroused.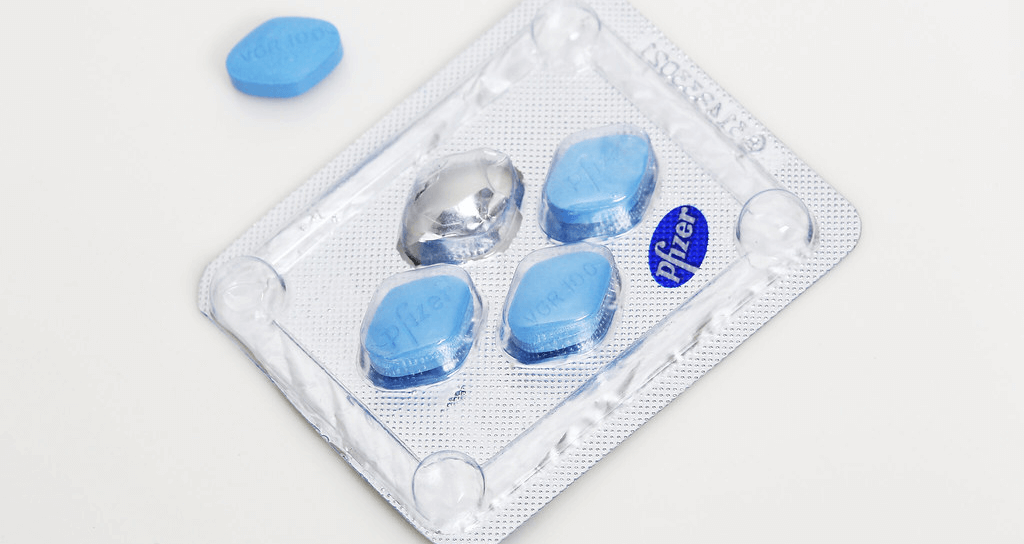 Viagra is effective; it has a high success rate of about 74%. That means that most men who use it will achieve an improved erection and a fulfilling sexual life [3]. However, it must be used correctly to get the best out of it.
Comparison of These Drugs
In other to decide which of these products to use – horny goat weed vs. Viagra, it is important to compare their benefits, strengths, the onset of effects, and duration of action. Viagra and horny goat weed are similar in the sense that they are both used to treat erectile dysfunction and they have a similar mechanism of action. They block the activity of PDE5, an enzyme that reverses erections [4]. However, they also have their differences. Here's a table that shows their similarities and differences.
| | | |
| --- | --- | --- |
| | Viagra | Horny Goat Weed |
| What active ingredient is contained in it? | sildenafil citrate | icariin |
| What form does it come in? | oral tablet | capsule, tablet, powder, tea |
| What are the available dose strengths? | 25 mg, 50 mg, 100 mg | no set dose strength; it may vary from one manufacturer to another |
| What is the initial recommended dosage? | 50 mg | no set dosage, but in some cases, 1,000 mg |
| When should you take it? | 30 to 60 minutes before sex | 90 minutes before sex |
| What is its onset of effects? | 30 to 60 minutes | effects start showing after around 1 month |
| What is its duration of action? | 4 to 5 hours | around 90 minutes, but it can take around 1 month before effects start to become apparent |
Although horny goat weed may act like Viagra, it is different from it. There are other notable differences between these remedies. For starters, Viagra is a medication approved by the FDA, while horny goat weed is a natural herb and it lacks FDA approval. Viagra is specifically developed to treat ED, but horny goat weed is often marketed as a panacea. What's more, Viagra requires a prescription to be purchased, but horny goat weed doesn't.
Best Places to Buy Generic Viagra and Horny Goat Weed Online
There are numerous places you could buy Viagra and horny goat weed from, but it is worth noting that you should not trust all online vendors. Many people have reported being sold counterfeit meds or noticing fraudulent activities in their accounts after linking their credit cards. That is why it is important to source medications only from recommended vendors. If you do not know any reliable online pharmacy, here are the top vendors you can bank on to deliver high-quality tabs directly to your doorstep.
ViaBestBuys.com
ViaBestBuys is a reputable e-drugstore that ships worldwide, except to countries with strict import rules. Its products are guaranteed high quality, as it sources them directly from renowned pharmaceutical companies. It has two main shipping methods: Express Mail Service (EMS) and Registered Airmail (standard delivery). However, it uses Royal Mail and USPS Priority Mail Express for UK domestic deliveries and US domestic deliveries, respectively.
EMS deliveries to the US, EU, Australia, New Zealand, and the UK take 7–12 business days. Standard shipping to the same countries takes 10–18 business days. Shipping to other countries not listed there takes 14–30 days regardless of the shipping method employed. UK-to-UK and US-to-US deliveries arrive within 3–4 business days, sometimes overnight. ViaBestBuys has two fulfillment centers: one in Singapore and the other in India. It ships out of the fulfillment center closest to a buyer's shipping address to ensure that it delivers on time.
The pharmacy sells ED drugs including generic Viagra at the best possible price. It offers mouth-watering discounts such as 25% off for payments made with Bitcoin, 10 extra-soft pills for returning customers, and 20 additional tabs for those who leave an honest review after placing an order.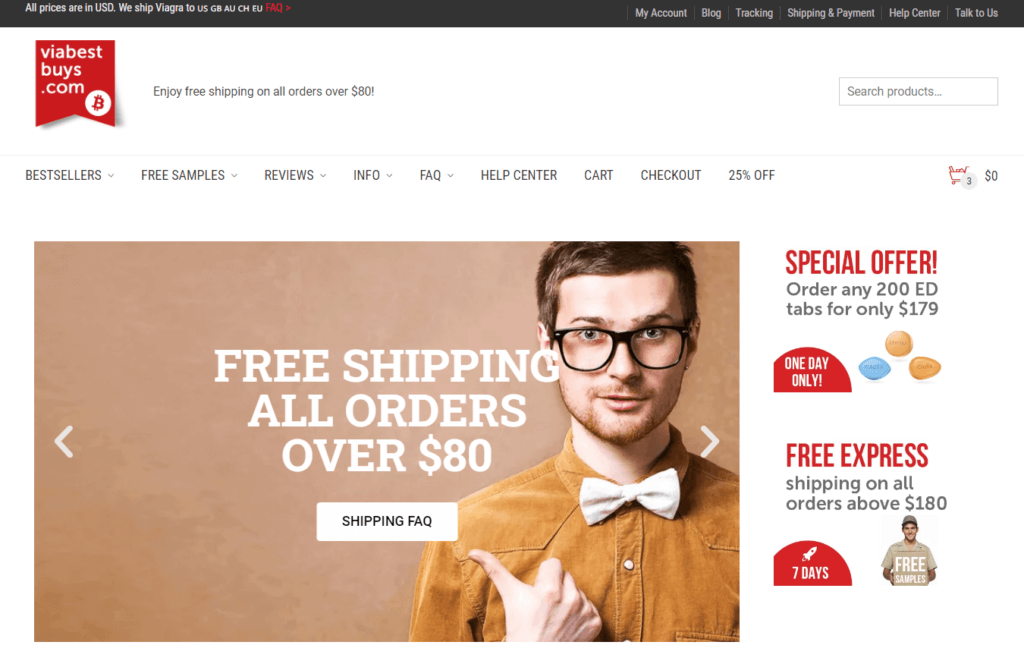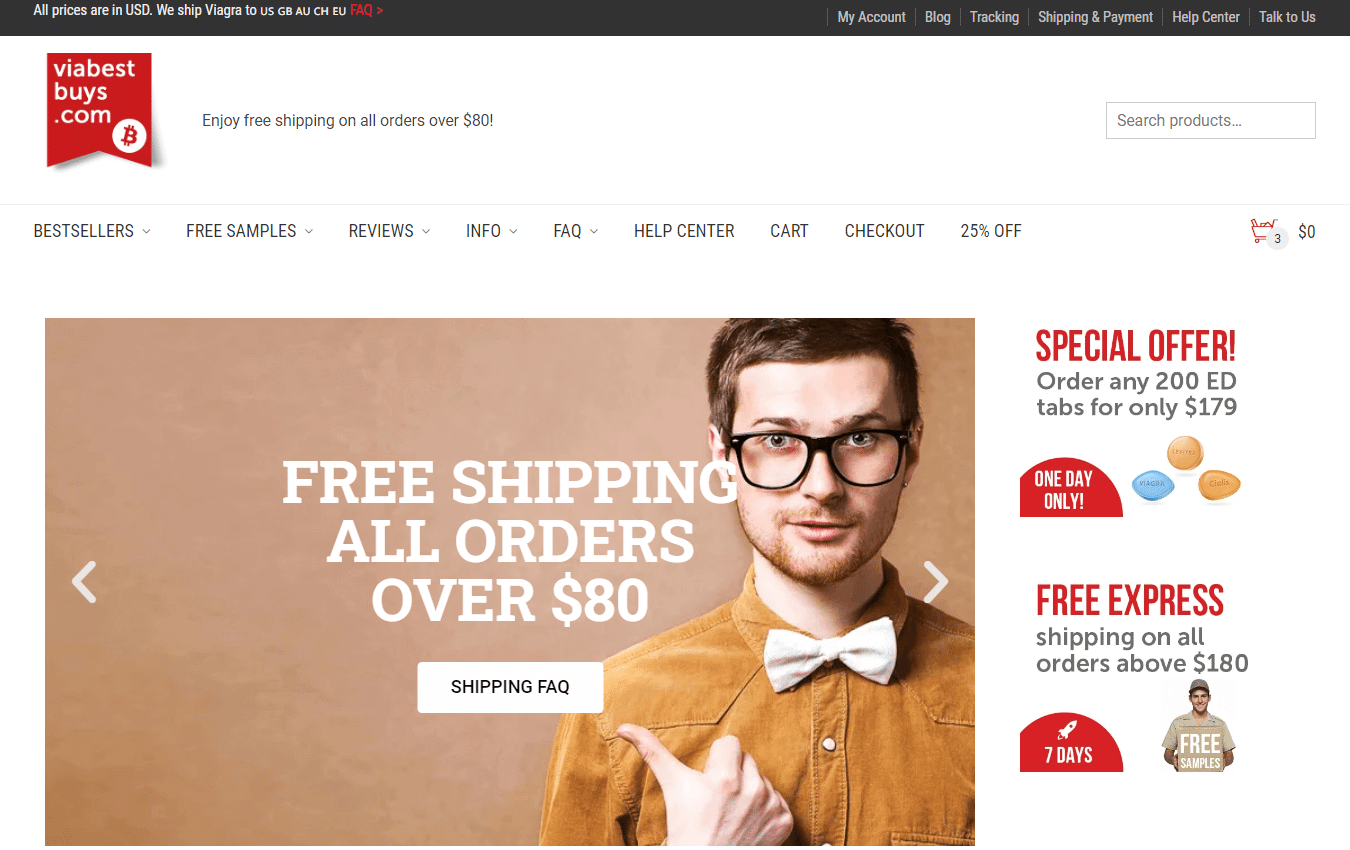 What's more, it offers free trial samples and provides free Airmail shipping on orders worth $80. ViaBestBuys provides a 100% money-back guarantee; thus, it will give a full refund or reship a parcel for free if it does not get delivered within a fixed date. Its accepted payment methods include crypto, American Express, PayPal, and MasterCard.
CialisBit.com
This is yet another online store selling Viagra and other ED medications at affordable prices. Its main shipping methods are EMS and Registered Airmail as well. EMS orders from the US, EU, Australia, New Zealand, and the UK usually have a waiting time of 7–12 business days. On the other hand, parcels shipped via Airmail take 10–18 days to arrive. Note that parcels shipped to other parts of the world via either EMS or Airmail take 14–30 days to arrive. For an even faster delivery to customers, CialisBit makes use of Royal Mail for UK domestic orders and USPS Priority Mail Express for US domestic orders. Parcels shipped with these shipping methods typically arrive within 3–4 business days or overnight.
The pharmacy ships worldwide, except in Israel, Brazil, Mexico, the United Arab Emirates, and other countries with strict import rules. In some cases, it uses a parcel forwarding service called Skypax to help buyers residing in those countries get their parcels. People who use the service say it has a 99% success rate.
CialisBit sources its products directly from manufacturers who have the necessary certifications to operate; thus, the quality of its products is guaranteed. Deliveries are 100% guaranteed with the vendor. It provides free reshipment or complete refunds if a parcel gets damaged or goes missing during delivery.
CialisBit provides some benefits to its customers to keep them returning. It provides free shipping, free trial samples, and 10 free Cialis or Viagra tabs for returning customers. It also provides a 25% discount to those who make payments with Bitcoin. But Bitcoin is not its only method of payment; it also accepts PayPal, American Express, and MasterCard. However, making payments with them does not attract any discounts.
HighStreetPharma.com
HighStreetPharma is a reputable and trustworthy vendor with a good track record of providing excellent customer service. Unlike the other pharmacies we've listed above, it sells a wide range of products and ships them worldwide, including to Canada, China, the United Arab Emirates, Russia, etc.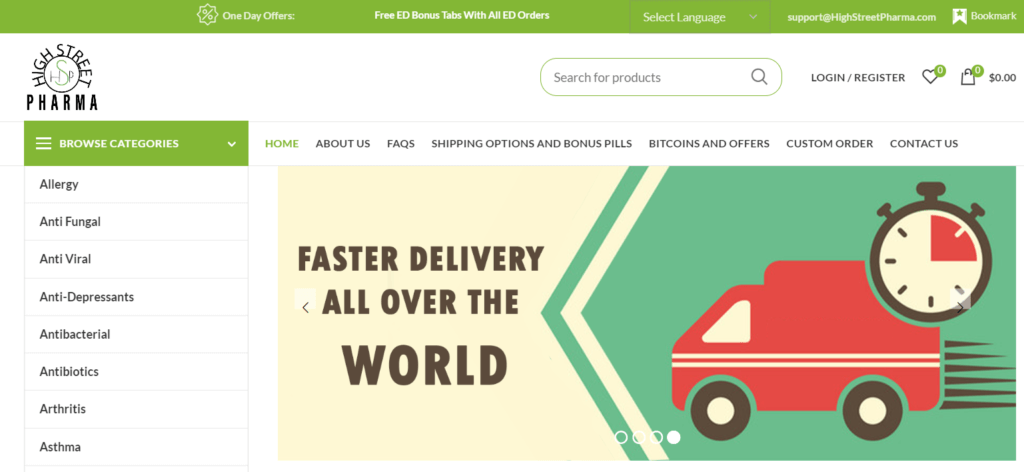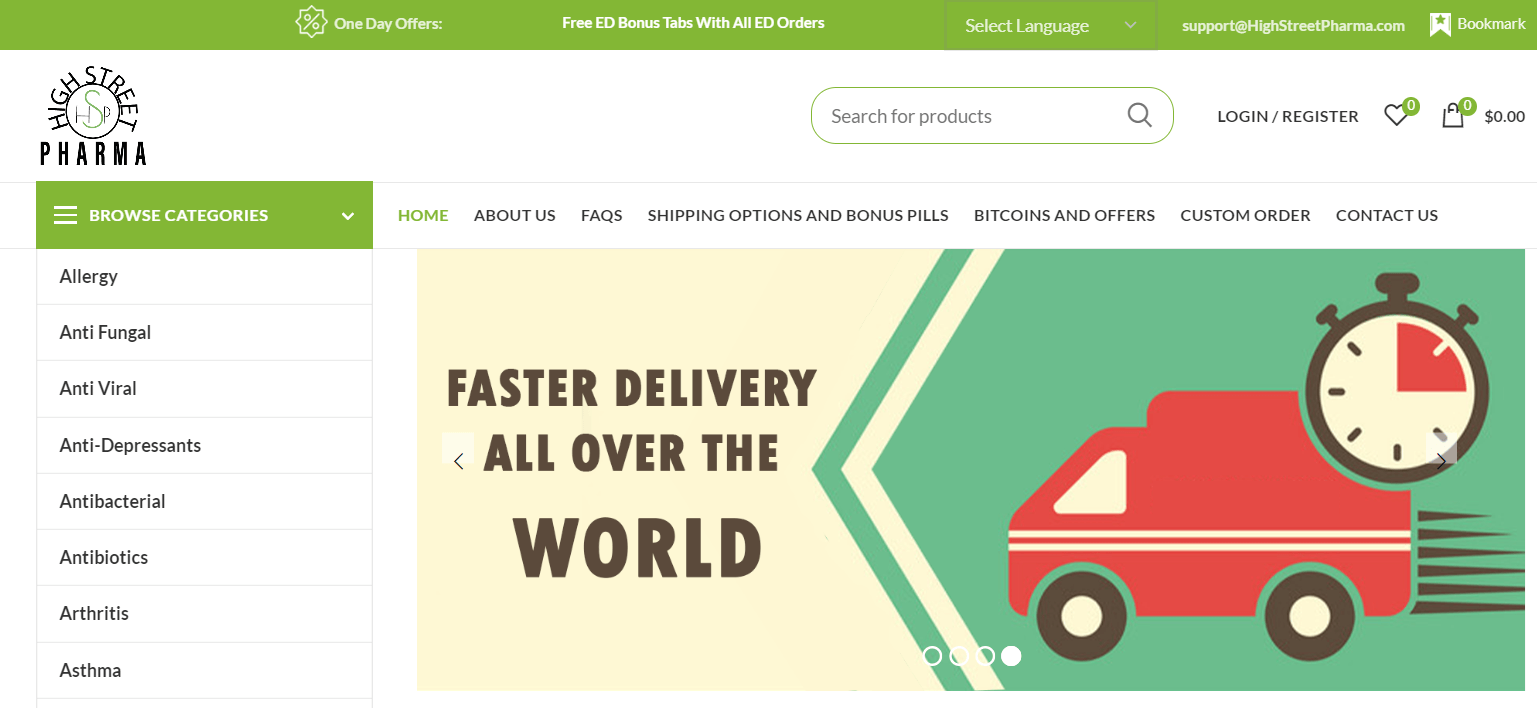 HighStreetPharma offers both regular and express shipping for its customers' convenience. Orders sent via the former take 14–21 days to arrive, while those shipped via EMS take 7–14 days. It provides free express delivery to customers who order meds worth $150 and a 10% discount to returning customers.
It is worth noting that while this vendor ships worldwide, it does not offer a money-back guarantee to countries with strict import rules. This is to say that a buyer would not get a refund or free reshipment if their parcel gets seized by customs at the border.
HighStreetPharma accepts multiple payment options. They include all major credit cards, e-Check, PayPal, American Express, and Amazon/Walmart giftcards. It also accepts crypto payments, depending on the buyer's location.
Note the above-listed online pharmacies do not have horny goat weed in stock because this supplement isn't FDA-approved; they only sell Viagra and other approved ED meds such as Cialis and Levitra. If you intend to buy horny goat weed, you will find it on Amazon.
Dosage Guideline for These Pills
Viagra is available as tablets administered orally, and it comes in 3 dose strengths: 25 mg, 50 mg, and 100 mg. The starting dose is 50 mg, but doctors may recommend a lower or higher dose based on tolerability and sensitivity, respectively [5].
There is no set dosage for horny goat weed, as it may vary from manufacturer to manufacturer and the form in use (liquid, powder, tablet, or capsule). Some manufacturers recommend a daily intake of 500 mg, while others recommend two capsules (around 1,000 mg) per day.
Note that overdosing on any medication can increase the risk of adverse effects. In one study, it was discovered that sildenafil citrate is 80 times more potent than icariin [6]. Some people try to determine the right dosage of horny goat weed to take by comparing it with the Viagra standard, but determining how much to take to equal its 25 mg, 50 mg, or 100 mg is next to impossible. It is like counting 100 grains of sand from a pile.
It is advisable to seek medical attention before starting treatment with either product. Doctors consider several factors such as age, weight, health, and drug history to decide on appropriate doses for patients.
Horny Goat Weed vs. Viagra: Side Effects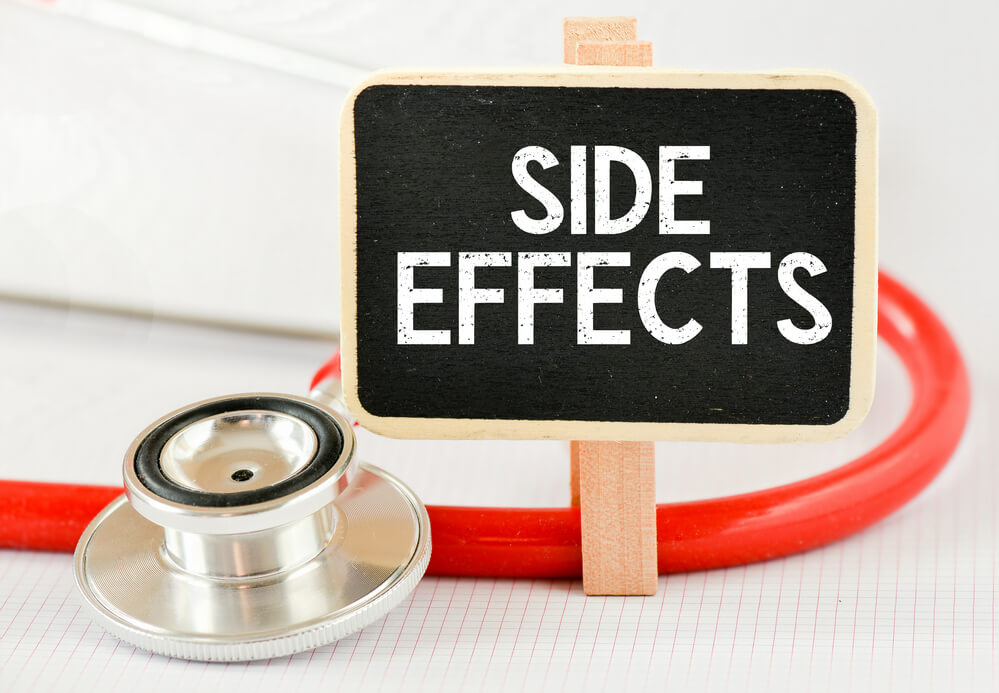 Horny goat weed and Viagra have side effects just like every other medication. Some of them are mild and typically go away without treatment, while others can be more serious and even life-threatening if left untreated.
Horny goat weed may cause dry mouth, headache, or upset stomach in some people when they first start taking it. It may cause more severe adverse effects such as low blood pressure, mood swings, irregular heartbeat, nosebleeds, and respiratory failure if used long-term. It is advisable to seek urgent medical attention should they arise to avoid any complications.
On the other hand, Viagra's common adverse effects include headache, upset stomach, nausea, dizziness, flushing, and diarrhea. They typically affect some first-time users, but they seldom last long and disappear without treatment as soon as the body becomes used to the drug. Viagra may result in more serious negative after-effects if used incorrectly. The possible ones include irregular heartbeat, mood swings, hallucinations, and ringing in one or both ears. Seek urgent medical attention if you notice any of them. It is advisable to consult a doctor before starting treatment with any of these ED products.
What Drugs Interact with Viagra and Horny Goat Weed?
Horny goat weed may interact negatively with some drugs, including blood thinners, nitrates, antibiotics, and other ED supplements. People with hormone-sensitive cancer are advised to avoid using the supplement, as it can lead to the overproduction of estrogen [2].
Viagra should not be taken with similar medications such as Stendra, Cialis, and Levitra. It should not also be taken with the following drug classes [7]:
medications for treating high blood pressure problems;
antibiotics such as clarithromycin, erythromycin, and telithromycin, among others;
antifungal meds such as ketoconazole, itraconazole, etc.;
HIV/AIDS medications such as atazanavir, ritonavir, indinavir, saquinavir, etc.;
nitrates.
It is inadvisable to drink alcohol while taking Viagra or horny goat weed. Taking both of them concomitantly can mask the drug's effects or even worsen side effects.
Conclusion
Horny goat weed has some beneficial properties. Some people have reported noticing improvements in their erectile function after taking it. It may be similar to Viagra in terms of its mechanism of action and effectiveness, but it does not work as well as Viagra does, and it is not as safe. Horny goat weed does not have a predetermined dose, it lacks FDA approval, and it is not safe for long-term use. Generally, more research needs to be done to determine its full effects. If there are any studies that suggest that it is better than Viagra, it is unlikely that they were controlled.
Consequently, it may be best to stick to Viagra; it is FDA-approved, has a high success rate (around 74%), and has a low risk of side effects. Also, it is available in generic versions that are as affordable as horny goat weed. If you decide to buy it, be sure to source it from a reputable online pharmacy such as ViaBestBuys, CialisBit, or anyone you trust.
Don't forget to consult your doctor before starting treatment with any drug.
References:
Horny Goat Weed (Epimedium). Written by R. Morgan Griffin. Medically reviewed by Sabrina Felson, MD. Retrieved: December 4, 2022. Webmd.com.
What's to Know About Horny Goat Weed? Written by Lori Smith, MSN, BSN, WHNP-BC. Medically reviewed by Debra Rose Wilson, PhD, MSN, R.N, IBCLC, AHN-BC, CHT. Retrieved: December 4, 2022. Medicalnewstoday.com.
Erectile Dysfunction Statistics 2022: How Common Is ED? Medically reviewed by Gerardo Sison, Pharm.D. Retrieved: December 4, 2022. Singlecare.com.
Horny Goat Weed: Does It Work to Treat Erectile Dysfunction? Written by Susan York Morris. Medically reviewed by Deborah Weatherspoon, PhD, MSN. Retrieved: December 4, 2022. Healthline.com.
Viagra (Sildenafil): Side Effects, Dosage, How Long It Lasts, and More. Written by Helen Marshall, BPharm, MRPharmS. Medically reviewed by Alex Brewer, PharmD, MBA. Retrieved: December 4, 2022. Medicalnewstoday.com.
Horny Goat Weed: Uses, Side Effects, and Dosage. Written by Cathy Wong. Medically reviewed by Meredith Bull, ND. Retrieved: December 4, 2022. Verywellhealth.com.
Viagra: Uses, Dosage, Side Effects, and Warnings. Medically reviewed by Sophia Entringer, PharmD. Retrieved: December 4, 2022. Drugs.com.