Erectile dysfunction (ED) is a very common problem. Worldwide, over 152 million men suffer from it and the strains it puts on relationships. Thanks to the several drug options available, it is no longer a helpless condition. Sildenafil and tadalafil are two highly-effective medications commonly prescribed for ED treatment. In this article, we will explore everything about these meds: their uses, dosage, side effects, warnings, and interactions. Hopefully, after reading, it will be much easier to decide which one yields better results.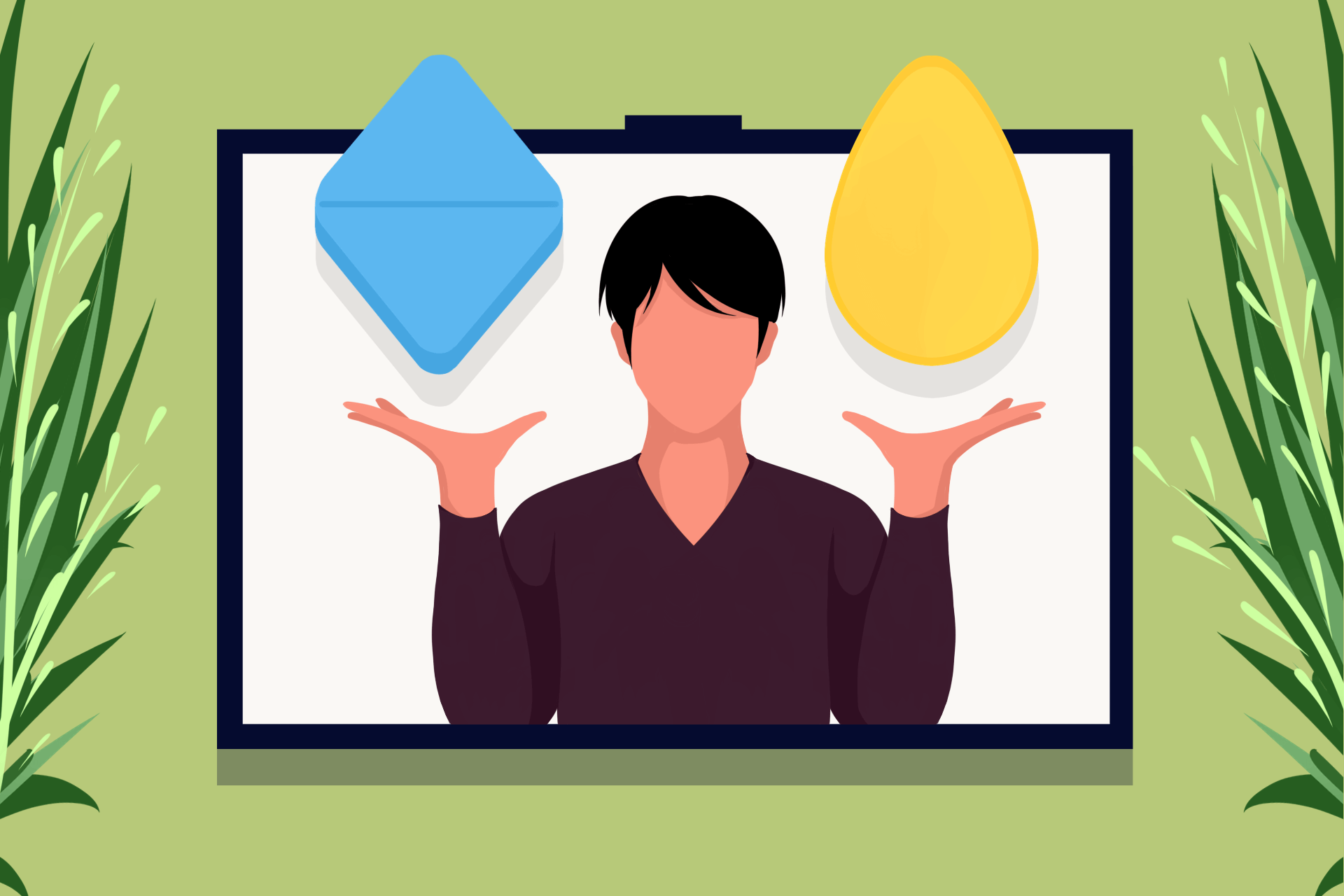 What Is Tadalafil?
Tadalafil is a prescription drug used to treat erectile dysfunction. It was approved by the U.S. Food and Drug Administration (FDA) for this purpose on November 21, 2003. As a result, it became the third phosphodiesterase type 5 (PDE5) inhibitor ever approved for ED treatment after Viagra and Levitra respectively. Tadalafil is marketed under the brand name Cialis [1].
What Is Sildenafil?
With over 25 million prescriptions written, it is one of the most popular ED medications ever made. It was approved for use in ED treatment on March 27, 1998. Furthermore, its generic version was later approved in March 2016 and released into the market in December 2017. Sildenafil is sold under the brand name Viagra [2] [3].
Comparison of These Drugs
So, what differences and similarities do these drugs have in common? In order to compare tadalafil vs sildenafil concisely, we have drawn a detailed table to showcase their various aspects at a glance.
Name
Tadalafil
Sildenafil
What is the brand name of this drug?
Cialis
Viagra
Are generic versions available?
yes
yes
What form does it come in?
oral tablet
oral tablet
What strengths is it available in?
2.5 mg, 5 mg, 10 mg, 20 mg
25 mg, 50 mg, 100 mg
What's the recommended dosage?
for "as needed" use – 10 mg;

for "daily" use – 2.5 mg

50 mg
What's the right time to take?
30 minutes prior to sexual activity
30-60 minutes prior to sexual activity
How long does it last?
up to 36 hours
4 hours
What's the best way to store this drug?
in a cool and dry place at a temperature of 25°C (77°F)
in a cool and dry place under the temperature range of 20°C to 25 °C (68°F to 77°F)
Apart from the few similarities these drugs share, there is another. This is the fact that both of them only work when the user is sexually aroused. What's more, these meds are produced by different pharmaceutical companies. While sildenafil is manufactured by Pfizer, tadalafil is manufactured by Eli Lilly and Company.
I'd had a few unsatisfactory sexual experiences of late. "I'm too young/healthy/horny to be having these problems", I'd said to myself. So after browsing the internet for options. "Free Trial Pack" sounded like just the thing for me. So I placed my order. Normally on first sexual encounters, I am nervous and tentative (knowing I have had troubles before), but this time I was locked and loaded and extra confident. The pill worked. I was as "ready" as I'd ever been. We had a great time, a few times, and she calls me up for a visit quite often now. If you think you could use a boost, give it a try. No complaints here.
Not sure what to get? ViaBestBuys offers a free sample pack of three of the most popular ED pills (Viagra, Cialis, and Levitra) delivered by mail straight to your doorstep. Free pills are already in your cart >>>
I have been ordering from ViaBestBuys for almost four years. Their products are virtually indistinguishable from brand-name products. In other words, their products really work. In addition to excellent products, their service department is helpful and understanding. They always respond even to the same question with patience. COVID-19 slowed the delivery time but all parties had little control over that. If you need your Viagra or Cialis supply fast, there is a US domestic shipping option available which takes 3-4 days on average. More TrustPilot reviews
Best Places to Buy Sildenafil and Tadalafil Without Rx
The best places to buy these drugs without a prescription (Rx) are online drugstores. Unless one falls into the wrong hands, buying online offers great benefits such as low prices, discounts, fast delivery, as well as convenience. To prevent our readers from getting scammed or from receiving counterfeit drugs, we've recommended a few stores that can be banked on, any day, any time. These vendors were selected based on several important parameters: quality of service, price, delivery speed, and shipping policy.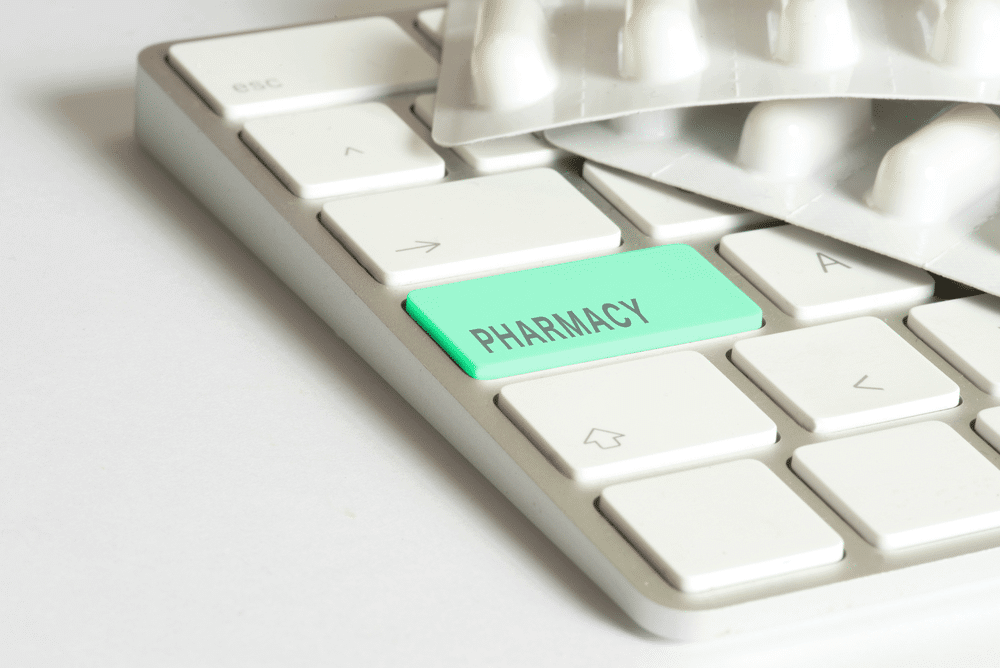 ViaBestBuys.com
ViaBestBuys is one of the best places to buy either sildenafil or tadalafil without a prescription. It sources its products from only reputable manufacturers like HAB Pharma and Sun Pharma, which are approved, known, and respected internationally. ViaBestBuys gives customers the opportunity to order free sildenafil and tadalafil samples.
This vendor ships drugs globally except to Canada and a few other countries due to their strict customs laws. It delivers packages using two main shipping methods:
Registered Airmail: It actually takes 10-18 business days for all deliveries to the United Kingdom, the EU, the USA, New Zealand, and Australia, and 14-30 days for those to other parts of the world. This method serves well for fulfilling bulk orders. In cases like this, the products are separated into smaller batches and shipped a few days apart to avoid any troubles with customs. Registered Airmail shipping costs $39. However, it is free for all orders over $130.
Express Mail Service (EMS): This shipping method is considerably faster compared to the previous one. Orders from the US, the UK, the EU, Australia, and New Zealand typically get delivered within 7-12 business days. On the other hand, those shipped to other parts of the world may also take 14-30 business days. It costs $49 but is offered free to customers who buy products with a minimum order value of $180.
This vendor accepts payments via credit cards, MasterCard, as well as Bitcoin (BTC). However, it provides customers who pay with Bitcoin with 25% off. It also offers other great deals and discounts through coupon codes and vouchers.
CialisBit.com
This is yet another trustworthy vendor with lots of satisfied customers. With its price starting as low as $0.59, CialisBit boasts of being the cheapest online pharmacy to buy tadalafil from. It also gives customers the opportunity to order free sildenafil and tadalafil samples so they can test the efficacy of the drugs before buying. This speaks of only one thing: this vendor is confident in the quality of the products it offers. Thus, customers can trust they will get the real deal each time they buy.
Furthermore, CialisBit also ships products worldwide using either the EMS or Registered Airmail. While shipments to the US, New Zealand, the UK, Australia, and the EU via EMS take within 7-12 business days, those sent through Airmail usually take within 10-18 business days. On the other hand, deliveries to other parts of the world irrespective of the shipping option used typically take within 14-30 days. It is worth noting, however, that as a result of strict customs laws, it does not ship to Canada and some other listed countries.
Individuals living in these countries may still buy and get products delivered by employing reshipping services like Skypax or PR Strømstad AB. More information about this can be found on CialisBit's Shipping & Payment page.
This vendor accepts payments through Visa, MasterCard as well as Bitcoin, and typically dispatches orders within 2 hours after confirming payment. It offers a 25% discount for all orders paid via Bitcoin, $25 off to all returning customers, and a $30 coupon to those who leave an honest review on its platform.
HighStreetPharma.com
HighStreetPharma is a reliable e-pharmacy that offers a wide variety of drugs at an affordable price. It has a nicely designed website that's easy to navigate. As a result, locating drugs is a walk in the park.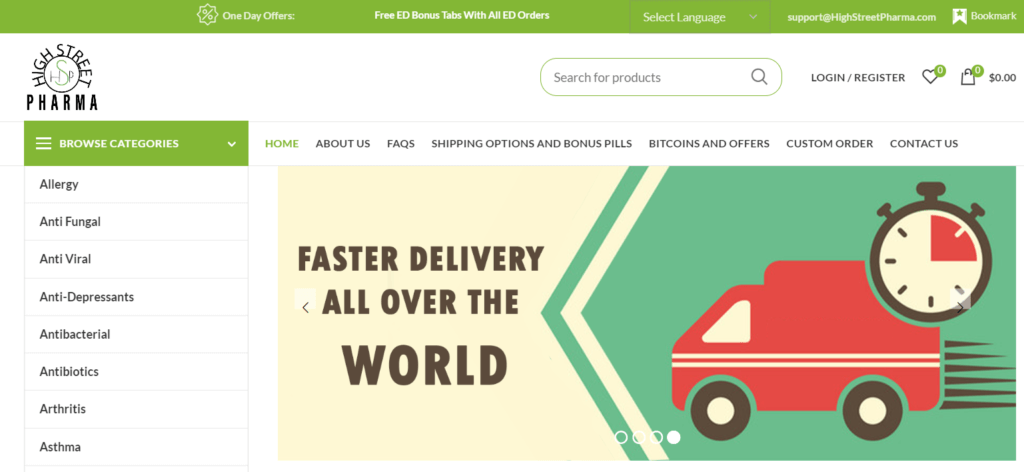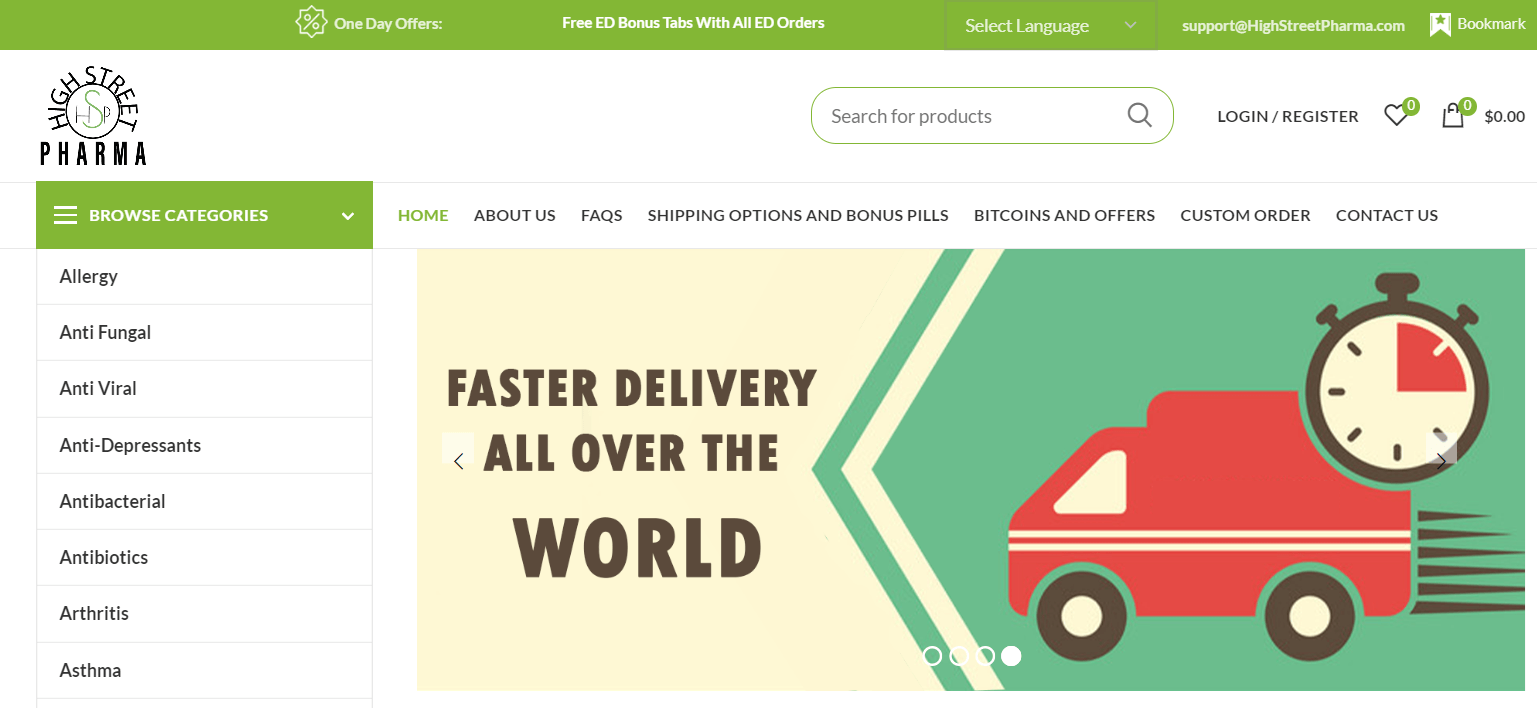 This vendor ships worldwide using either the EMS or Registered Airmail. Orders sent via the former usually take between 7-14 days, while those sent through the latter may take between 14-21 days. It is worth noting that HighStreetPharma does not provide refunds or free reshipping for missing, damaged, or seized products for some countries listed on its website.
Some of the goodies it offers include 20% to returning customers and free Airmail delivery for all products with a minimum order value of $150.
PureRxPills.com
PureRxPills is an e-pharmacy that sells FDA-approved generic ED drugs as well as several other health medications at an affordable price. Unlike the aforementioned vendors that sell directly to customers, this vendor doesn't. On a microscopic level, it takes orders from customers, sources it from only reliable and trustworthy manufacturers, and gets them delivered to the specified addresses. It is for this reason that it is called a "pharmaceutical intermediary."
Furthermore, PureRxPills only sells meds on a prescription-basis. Thus, to buy on the platform customers are required to fill a form to share their medical information which will be checked by a certified physician. If it gets approved, the product gets shipped.
This vendor offers free Airmail shipping for over 99% of orders made on its platform, and they're made available at an affordable price. It is worth noting that PureRxPills provides no estimates based on shipping time. However, it does well to provide full refunds or reshipments (depending on the customer's instruction) in the unlikely event that the product gets missing, damaged, or stuck at customs.
Dosage Guideline for These Pills
The recommended dosage for sildenafil is 50 mg. It is typically taken on an "as needed" basis within 30 minutes to 1 hour before sexual activity. Dosage may be decreased to 25 mg or increased to 100 mg depending on efficacy and tolerability respectively. Regardless of the fact that its effects last between 4 and 5 hours, it should never be taken more than once a day [4].
On the other hand, tadalafil can be used on an "as needed" or "daily" basis. The dosage varies depending on how it is taken. For daily use, the recommended starting dosage is 2.5 mg to be taken only once per day. However, it may be increased to 5 mg if the previous dosage is ineffective. For an "as needed" use, the recommended initial dose is 10 mg. However, the dosage may be raised to 20 mg if the recommended 10 mg is found ineffective or decreased to 5 mg if the side effects are unmanageable [5]. When used daily for ED treatment, the time of administration is irrelevant. As the effects of this drug last for up to 36 hours, taking more than one dose a day can be very harmful.
Seek medical advice before beginning treatment with these drugs.
Tadalafil vs Sildenafil: Side Effects
Just as with every other drug, the use of either tadalafil or sildenafil poses a risk of side effects. Such reactions may be mild and short-lived or severe and persistent.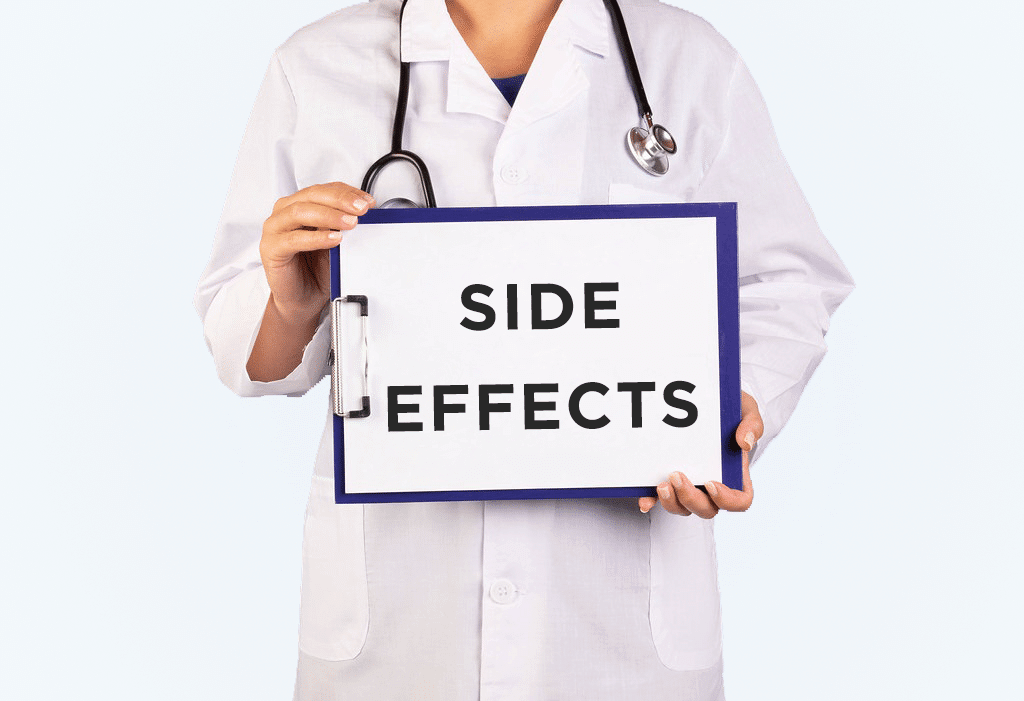 Negative effects associated with tadalafil and sildenafil include [6]:
headache;
nausea;
back pain;
stuffy nose;
dizziness;
stomach upset;
flushing.
The occurrence of more serious side effects is very uncommon, but it is not impossible. Priapism (erection lasting for 4 hours or more), decrease in or loss of hearing and decreased vision are some of the possible severe adverse reactions of this drug.
More serious adverse reactions that may result from the use of sildenafil include a stroke, irregular heartbeat, and a heart attack. However, these negative effects are very rare. It is worth noting that strictly adhering to instructions contained in the drug's leaflet can greatly reduce the chances of experiencing side effects. Always seek advice from a doctor before using these or any other drugs.
What Drugs Interact with Sildenafil and Tadalafil?
Some of the drugs that interact with sildenafil & tadalafil include [8]:
alpha-blockers such as Flomax (tamsulosin HCl), Jalyn (dutasteride and tamsulosin HCl), Minipress (prazosin HCl), Rapaflo (silodosin), or Hytrin (terazosin HCl);
HIV protease inhibitors such as Crixivan (indinavir sulfate), Reyataz (atazanavir sulfate), Fortovase (saquinavir), Norvir (ritonavir);
nitrates like Isordil (isosorbide dinitrate), Nitrostat, Minitran (nitroglycerin), and Monoket (isosorbide mononitrate);
guanylate cyclase stimulators such as Adempas (riociguat).
This list does not contain all the possible drugs that may interact with sildenafil and tadalafil. Check the leaflet contained in the med packaging. Seek advice from a doctor before combining these drugs with any other.
Conclusion
While there is no doubt that tadalafil and sildenafil are both highly-effective ED treatments, the question remains… Which is a better option between the duo? Well, it all depends on how often one has sex.
Sildenafil has a shorter duration of action compared to tadalafil. While it lasts only 4-5 hours from the time of administration, tadalafil lasts for up to 36 hours. Thus, for one who has sex frequently, spontaneity is an important factor. Under this circumstance, tadalafil may be best. Otherwise, sildenafil will suffice "as needed."
References:
Tadalafil. Retrieved: April 20, 2020. Wikipedia.org.
Sildenafil. Retrieved: April 20, 2020. Wikipedia.org.
ED Treatment | Viagra (sildenafil citrate) | Safety Info. Retrieved: April 20, 2020. Viagra.com.
Tips for Taking Viagra (sildenafil citrate) | Safety Info. Retrieved: April 20, 2020. Viagra.com.
How to Take Cialis: 4 Tips to Get the Best Results. By Megan N. Brown, PharmD, RPh. Retrieved: April 20, 2020. Goodrx.com.
Side Effects of Cialis (Tadalafil), Warning, Uses. Retrieved: April 20, 2020. Rxlist.com.
Side Effects of Viagra (sildenafil citrate) | Safety Info. Retrieved: April 20, 2020. Viagra.com.
Is VIAGRA (sildenafil citrate) Right for You? | Safety Info. Retrieved: April 20, 2020. Viagra.com.