Viagra is one of the most famous drugs employed to treat erectile dysfunction (ED), thanks to the fact it was the first-ever approved ED remedy. But it's been over 20 years since its approval, meaning that other pharmaceutical companies are now free to market their generic versions.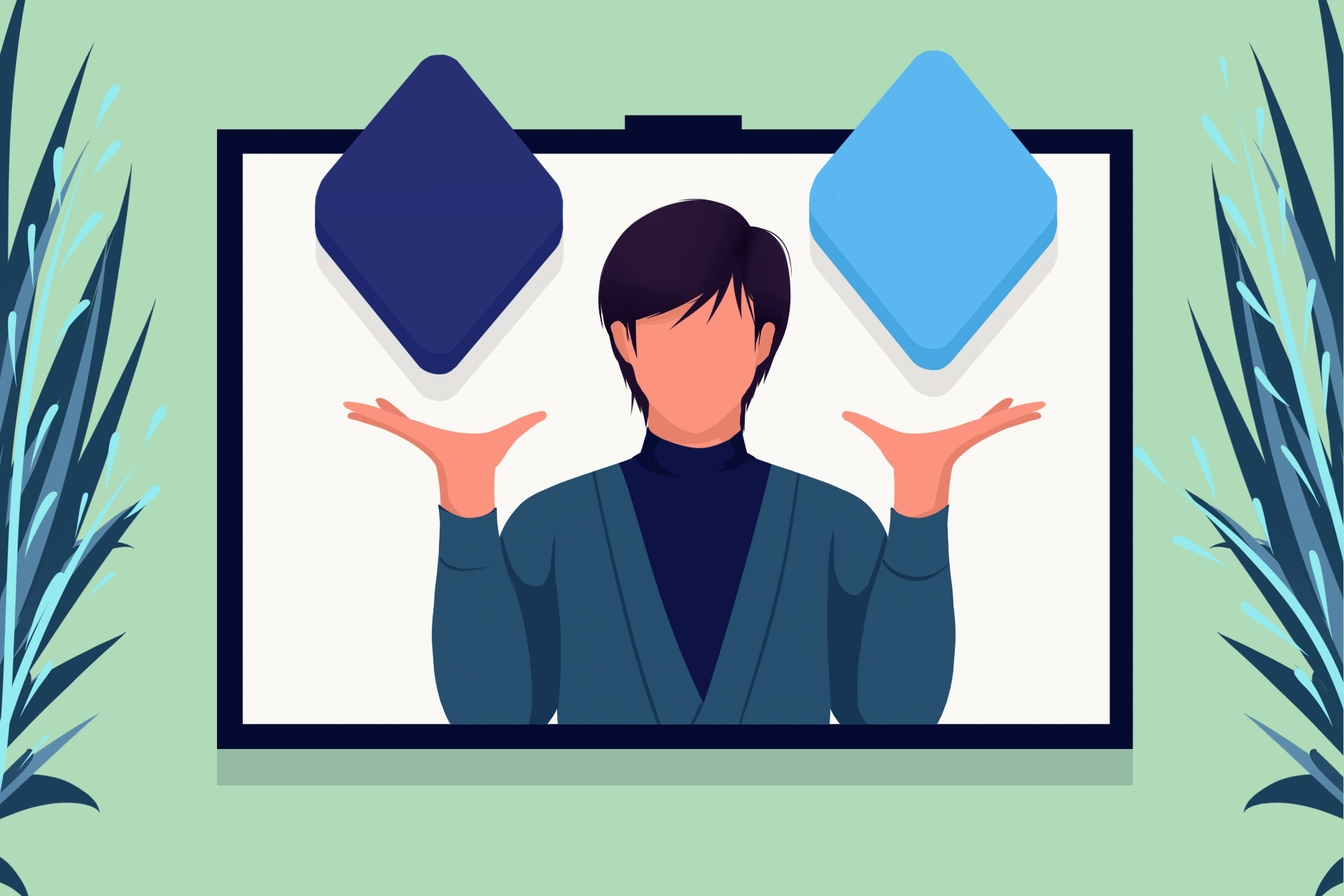 Aurogra is a relatively new generic version of Viagra. It contains sildenafil citrate, the main ingredient in the brand-name drug. Consequently, it works the same way and provides the same clinical benefits at a lower price. Let's compare both drugs and see which one offers the best value for your money.
Some Information About Aurogra
Aurogra is simply generic Viagra. It contains 100 mg of sildenafil citrate and is said to provide the same clinical benefits. Like Viagra, it is approved for use in treating impotence in men. The tablets are manufactured and marketed by the Indian-based pharmaceutical company Aurochem [1].
The drug is available in tablet form, as a little blue pill to be ingested orally. It is only approved for individuals who are 18 years of age and above. If you intend to try this product out, consult a doctor before starting treatment with it.
Main Features of Viagra
Viagra is the pioneer of orally administered medication for ED. Scientists at Pfizer Laboratories discovered it accidentally while working to develop a medicine for angina – a chest pain typically caused by decreased blood flow to the heart. The Food and Drug Administration (FDA) approved it for use on March 27, 1998, after which it skyrocketed in popularity [2].
Widely popular as the "little blue pill," Viagra is typically the first drug most doctors prescribe for ED [3]. Its safety and efficacy are guaranteed and backed up by many years of study, clinical trials, and users' reviews.
Difference Between These Pills
Although Viagra and Aurogra consist of the same active ingredient and should be precisely the same, they have a couple of differences.
| | | |
| --- | --- | --- |
| Drug Name | Aurogra | Viagra |
| What active ingredient is contained in this drug? | sildenafil citrate | sildenafil citrate |
| What form is it available in? | tablet | tablet |
| What are the available drug strengths? | 100 mg | 100 mg, 50 mg, and 25 mg |
| What's the initial recommended dosage? | 100 mg | 50 mg |
| When should you take it? | 1 hour before sex | 30–60 minutes before sex |
| What is the drug's duration of action? | 4 hours | 4 hours |
| What's the best condition to store this drug? | at room temperature of 68°F to 77°F (20°C to 25°C) | at room temperature of 68°F to 77°F (20°C to 25°C) |
In case you're wondering why Aurogra and Viagra differ at all since they share the same active ingredient. Well, the difference stems from the fact that both drugs contain different inactive components. While regulatory bodies require generic drug manufacturers to use the same active ingredient as in the brand-name drug versions, they give them a free hand when it comes to choosing inactive ingredients.
Many generics manufacturers play around with inactive components during formulation to achieve generics with improvements to the brand-name drugs. Such enhancements include a change in taste, color, faster onset of action, longer duration of action, and fewer side effects.
Where to Buy Aurogra and Viagra?
Viagra and Aurogra are available online and in brick-and-mortar stores, but Aurogra might be challenging to find in physical stores due to its low popularity.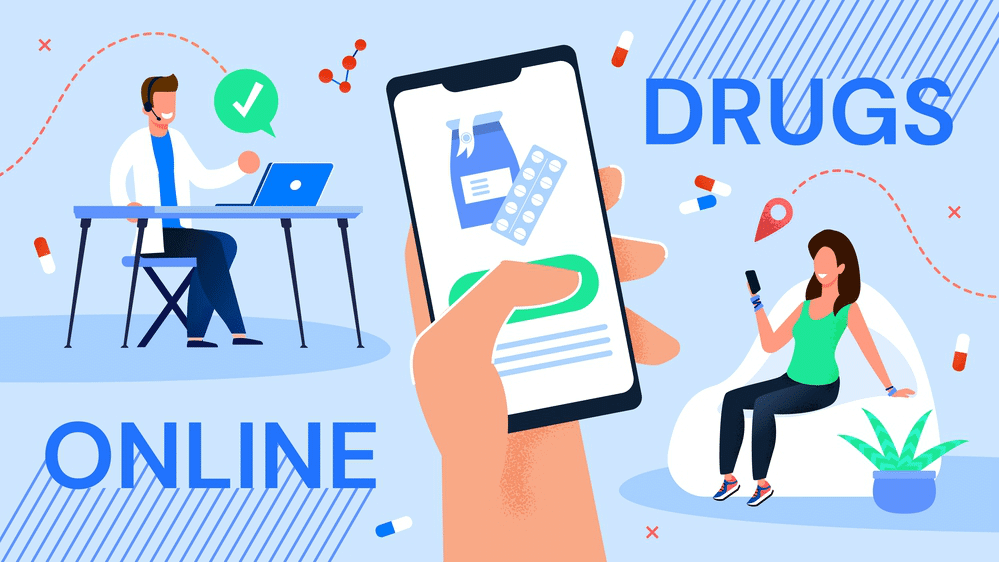 Today, most people prefer buying online because of the convenience, better pricing, and other benefits associated with doing so. However, if you intend to source any of these products online, it is vital to be aware of possible risks, such as getting counterfeit meds sold.
In light of this, it is advisable to patronize only tested and trusted online pharmacies. Here are the vendors we recommend for top-quality medication and customer service.
ViaBestBuys.com
A 100% money-back guarantee, good customer service, and free samples – this is an efficient litmus test for trustworthy e-pharmacies, and ViaBestBuys.com (VBB) tests positive. The vendor offers a wide range of ED drugs, including Viagra, Aurogra, Cialis, Levitra, and lots more at a cost-effective price.
It offers worldwide shipping via Registered Airmail and Express Mail Service (EMS), except to countries with strict customs laws. Some of these countries include Pakistan, Brazil, Mexico, Taiwan, and Indonesia.
Its delivery time and shipping fee may vary based on buyers' location and the shipping method they use. For example, the waiting period for orders from the US, Australia, the UK, the EU, and Canada dispatched with EMS is typically 7–12 business days. On the other hand, those from other countries may take 14–30 business days. This shipping option costs $39.
Orders shipped with Registered Airmail have a slightly longer waiting period, but it costs less ($29). Deliveries to the US, Australia, the UK, the EU, and Canada often take 10–18 business days, while those to other countries take about 14–30 days.
It might interest you to learn that VBB provides either free EMS or Airmail shipping on orders worth $180 and $80, respectively. Its free sample offer implies that intending buyers can order certain products for free and get to test them to verify their quality and efficacy before placing an actual order. The pharmacy accepts multiple payment options, including Bitcoin, MasterCard, and American Express, but its 25% discount only applies to Bitcoin payments. It has several other discount offers; you may refer to the vendor's website for more information.
CialisBit.com
CialisBit.com can be regarded as a veteran when it comes to profiling online pharmacies. It has been in business for some years now and has since amassed thousands of positive reviews from happy customers – proof of its reliability.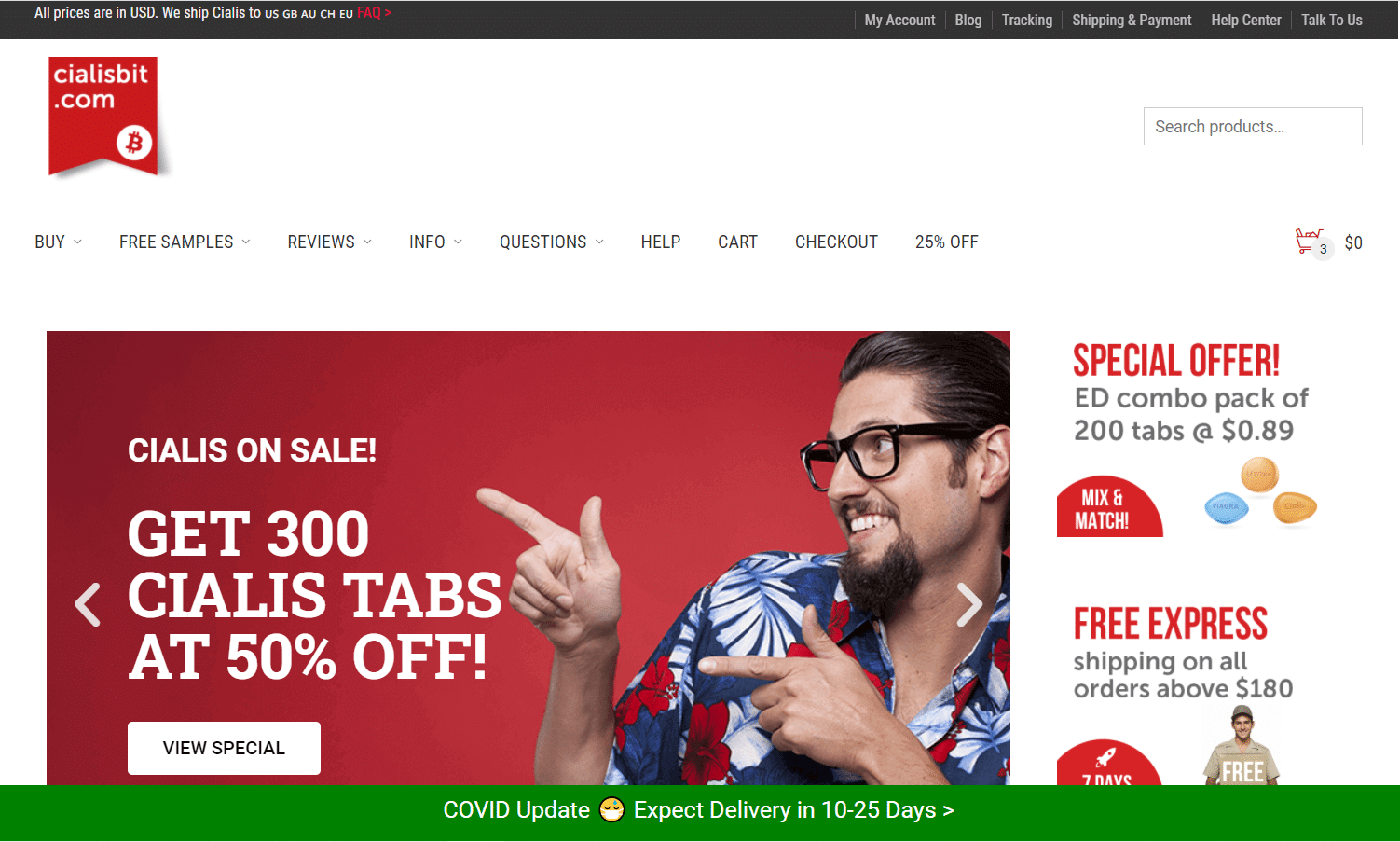 The pharmacy equally ships products via EMS and Airmail. Delivery times are the same as ViaBestBuys', but the shipping costs differ slightly. In fact, most of the services the pharmacy offers are very similar to VBB's, as they're sister stores.
Some of the benefits of buying from CialisBit include mouth-watering discounts, free shipping, great customer support, fast deliveries, and a lot more.
CialisBit.com can be trusted for quality pills at one of the best prices any day, any time. Although this vendor equally sells a wide variety of drugs for impotence, it doesn't offer Aurogra.
HighStreetPharma.com
Outside the e-pharmacies mentioned above, HighStreetPharma (HSP) is yet another vendor that provides unmatched customer service and satisfaction. Although its product prices are a little on the high side, compared to VBB and CialisBit, it has some discount packages to compensate for that. It equally sells a variety of ED meds, including Viagra and Aurogra, but apart from this category of products, it offers a wide range of drugs for various health conditions such as asthma, cancer, and diabetes.
It equally ships worldwide via EMS and Airmail. The waiting period for EMS shipping is 7–14 days, while that for Airmail is 14–21 days. Interestingly, the vendor provides free Airmail shipping on all orders worth $150.
What's more, buyers can rest assured they'll be getting premium quality pills, as the vendor sources its products directly from top-level manufacturers in India. HSP provides a 100% money-back guarantee; this means that it will either refund or reship a parcel if it gets missing, damaged, or stuck at customs. However, the vendor doesn't offer refunds or reshipments for countries with stringent customs laws.
Dosage Guideline for Aurogra vs. Viagra
Taking the correct dosage of a drug is the prerequisite for achieving the desired therapeutic effects. The same is true for Aurogra and Viagra.
Viagra is available by prescription only in strengths of 100 mg, 50 mg, and 25 mg [4]. However, higher strengths may be found in the generic versions. If you're looking to try this medication out, it is advisable to start with the smallest dosage to enable you to determine its effects on you. After that, you may raise dosing gradually based on your tolerability. Always seek medical advice before taking any drug.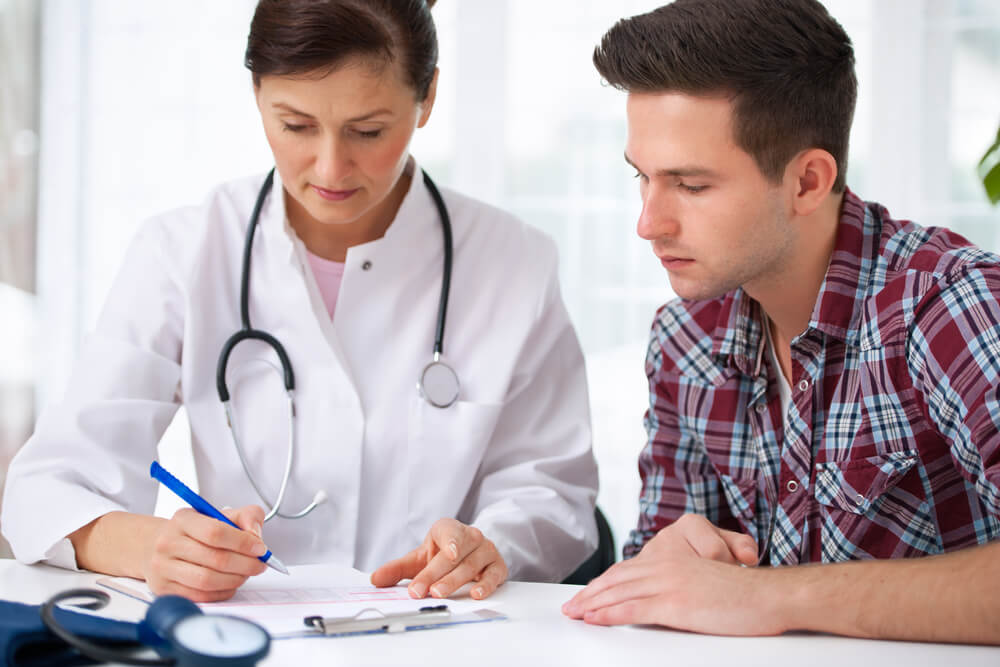 On the other hand, Aurogra is only available in the 100 mg strength, and its manufacturer recommends it for use.
Both drugs are administered orally and should be taken with a substantial amount of water. It is inadvisable to split these tablets or grind them for any reason. Consult a doctor before starting treatment with these or any other drug.
Aurogra and Viagra: Possible Risks
All drugs pose a health risk; however, they're typically approved by drug regulatory bodies for use because their benefits outweigh their side effects. Also, in the case of Aurogra vs. Viagra: they pose similar risks of adverse reactions because they contain the same active ingredient. The common ones include headaches, upset stomach, dizziness, facial flushing, and stuffy nose [4].
It is worth noting that more severe side effects such as confusion, shortness of breath, blurry vision, etc., can also result from using either drug [5]. However, they're primarily associated with incorrect use or abuse. Consequently, it is advisable to adhere strictly to the recommended dosage guideline for both drugs. Consult a healthcare provider if there's any instruction regarding use you aren't clear about.
Interaction with Other Medicines
Drug interaction is a common cause of adverse reactions. It occurs when two or more drugs that do not mix well together are taken at once. Containing sildenafil citrate as their base ingredient, Viagra and Aurogra do not combine well with similar types of drugs. Medicines to avoid while using either of them include [6]:
nitrates;
guanylate cyclase stimulators such as riociguat;
drugs for angina like nitroglycerin;
alpha-blockers;
blood thinners such as warfarin;
certain antifungals such as ketoconazole (Nizoral) and itraconazole (Sporanox, Onmel).
Also, do not mix these drugs with grapefruit or grapefruit extracts.
Sildenafil is safe with moderate amounts of alcohol; however, it may be best to completely rule out such a combination.
Note that this is not a comprehensive list of drugs that may interact with either of these ED remedies. Turn to the drug leaflets or consult a doctor for a comprehensive brief on possible interactions and meds to avoid.
Recap
Viagra and Aurogra are both effective medications for treating impotence. They contain the same active ingredient and thus work the same way and provide similar benefits and side effects. But which should you go for if you were to compare and buy one product?
Well, Viagra is more popular. It has been more widely tested and reviewed by users compared to Aurogra. Although it costs much more, it has other more popular generics such as Kamagra, Viagra Soft, etc., that may be a better choice, considering safety. If you'd like to explore better Viagra alternatives, you can check out ViaBestBuys or the other recommended pharmacies. They offer a wide range of Viagra generics and informative articles about them.
References:
Aurogra (Sildenafil Citrate 100 mg) Official Site. Retrieved: March 15, 2021. Aurogra.net.
FDA Approves Viagra. Published by A&E Television Networks. Retrieved: March 15, 2021. History.com.
Viagra, Levitra, or Cialis: Which Is Best for Erectile Dysfunction? Written by Sophie Vergnaud, MD. Last reviewed by Benita Lee, MPH. Retrieved: March 15, 2021. GoodRx.com.
Sildenafil (Viagra): Medicine for Erection Problems. Retrieved: March 15, 2021. Nhs.uk.
Sildenafil: Side Effects, Dosage, Uses, and More. Written by the University of Illinois. Medically reviewed by the University of Illinois. Retrieved: March 15, 2021. Healthline.com.
Sildenafil: MedlinePlus Drug Information. Retrieved: March 15, 2021. Medlineplus.gov.